World news story
BHC Victoria helps SCCI launch new entrepreneurs
BHC Victoria and the SCCI have teamed up to give new entrepreneurs a helping hand to get their businesses up and running.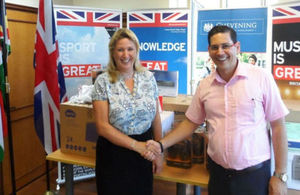 The Seychelles Chamber of Commerce and Industry is establishing a "business incubator" in its offices in central Victoria which will be equipped with all the IT equipment needed to get a new business off the ground, supplied by the British High Commission.
"Prosperity, both for the UK and for Seychelles, is one of our key objectives and there's no better way to achieve this than by planting the seeds for new businesses to grow," said British High Commissioner Her Excellency Mrs Lindsay Skoll, while handing over the IT equipment to SCCI Chair Marco Francis.
"We want to see Seychellois businesses driving Seychelles' economic growth. And I hope that when the businesses that emerge from the incubator look for international partners, they will choose the skills, experience and quality offered by British businesses."
"When Marco came to us with the idea of the business incubator we were impressed by his enthusiasm and delighted by the opportunity to support this excellent initiative. I think that there are a lot of fantastic business opportunities waiting to be explored in Seychelles and a lot of tremendously capable people who just need the right opportunity to make the most of this potential," said the High Commissioner.
The IT equipment, worth almost GBP5,000 includes computers, printers and scanners.
The incubator is expected to be opened in the coming month. In addition to the office space and IT support, the SCCI will also provide technical support and business advice to new entrepreneurs, through its existing members and with the support of the Seychelles Institute of Management.
"New entrepreneurs bring new ideas and new impetus to the economy. The SCCI wants to do everything possible to help new entrepreneurs find their feet and the new incubator, and the support of the British High Commission, will be invaluable in doing this," said Mr Francis.
Published 24 April 2014