BFPO postcode solution improves access to online services for those based overseas
The MOD, British Forces Post Office (BFPO) and Royal Mail have worked together to introduce UK-style postcodes for the 100,000 personnel and…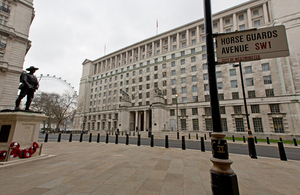 The MOD, British Forces Post Office (BFPO) and Royal Mail have worked together to introduce UK-style postcodes for the 100,000 personnel and their families serving in places such as Germany, Cyprus and the Falkland Islands.
The new online postcodes will help everyone serving overseas, including those aboard Her Majesty's ships and submarines, and their families, by improving access to products and services on the internet, as proposed in the Armed Forces Covenant. It will also help personnel maintain a UK credit history recognised by financial service providers.
BFPO numbers are not compatible with many online ordering systems, including credit agencies. However, under the changes, Service personnel will be able to order everyday products online and have better access to mortgages and credit cards.
The improvements will also mean UK businesses will be able to make their goods and services available to British forces stationed around the world, simply by updating their online ordering systems.
Minister for Defence Personnel, Welfare and Veterans Andrew Robathan said:
This is great news for our forces and their families stationed overseas, who should enjoy the exact same access to goods and services as UK residents.

One of the aims of the Armed Forces Covenant introduced by this government was to minimise the impact of military life, so this is another great step forward to make Service life as easy as possible.
BFPO Head of Policy and Plans, Lieutenant Colonel Ian Stark, said:
For our personnel stationed abroad, this will make a big difference. BFPO and Royal Mail have created a database that opens up access to internet services and the ability to carry out internet transactions, whether it is online shopping, registering your car or applying for a mortgage or credit card. The changes will also allow our people to build up a credit history which is recognised by financial service providers.
Published 19 April 2012