Beyond 2015: Student competition to help 'shape the future'
British pupils will get a chance to tell their Prime Minister what they want to see in global goals which will shape the future of development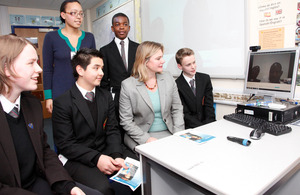 Development Secretary Justine Greening today launched a competition for all secondary school students in the UK to debate and submit their own proposals for the post-2015 development agenda.
Video: Justine Greening calls on pupils to share ideas to tackle poverty
Ms Greening will pass on the results of the competition to the Prime Minister who is co-chairing the United Nation's High Level Panel, which is looking at what should succeed the Millennium Development Goals (MDGs) from 2015.
The Shape the Future competition will help students aged 11 - 14 years old to develop their understanding of global development and the MDGs.
Five winning schools will also be invited to come to the Department for International Development's offices and present their ideas to its staff directly.
Alongside the competition, a new education scheme with partners including Pearson, Oxfam and the Royal Geographical Society will help pupils' understanding of developing countries and how to reduce global poverty.
Secretary of State for International Development Justine Greening said:
The next set of global development goals will play a crucial role shaping the world that our young people will inherit, and so it makes sense that they can play their part in helping to create a fairer and more prosperous world.

This will be the generation of British schoolchildren who see developing countries grow and prosper over the next decades. This programme is their chance to set out what values they believe the international community should uphold as we create the development programmes and trade links for the prosperous developing countries of tomorrow.
President of Pearson UK and spokesperson for the Development Education Consortium Rod Bristow said:
In today's globalised world it is not only exciting but also really important that our young people have opportunities to learn about the experiences of people from every corner of the world. The Development Education Consortium is delighted to have been given this opportunity to deliver this programme, which we believe can open the eyes of young people around the world to the way we each live.

The 'Shape the Future' competition is a fantastic means of kicking off this exciting programme, and I welcome the Prime Minister's initiative in opening up a dialogue with young people on the sort of development priorities they want to see in the world they will inherit.
The Global Learning Programme will contribute to existing school-based initiatives including Global Dimension, Global Citizenship, Global Learning and Sustainable Development. In addition, it will identify ways in which development education can contribute to school improvement and provide accreditation opportunities for schools.
The Global Learning Programme - England (GLP-E) will be co-ordinated and managed by The Development Education Consortium led by Pearson and includes:
Published 6 February 2013