Press release
Bexley attackers to spend longer in jail after Solicitor General's referral
Greg Wenham and Jack Siksnys have their jail terms increased.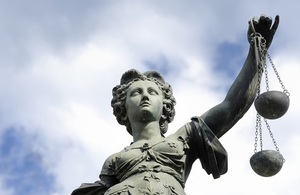 Two men who attacked a man outside his home will spend longer in prison after the Solicitor General, Robert Buckland QC MP, referred their sentences to the Court of Appeal for being too low.
Greg Wenham, now 36, and Jack Siksnys, now 23, approached their victim as he stood outside a local Crayford pub. They took some of his belongings and threw them on the floor before giving chase when he attempted to flee. Wenham and Siksnys then attacked the victim as he tried to get into his house, repeatedly punching and kicking him in the head and genitals. They dragged him into the street and continued this attack even after the victim had fallen unconscious, ignoring shouts from a neighbour, and did not stop until the police arrived.
The victim suffered multiple fractures to his face which required permanent metal implants; and he continues to suffer emotionally from the attack.
Wenham and Siksnys were originally sentenced at Woolwich Crown Court in May, where they were imprisoned for 3 years 9 months and 4 years 6 months respectively. Today, after the Solicitor General's referral, the Court of Appeal increased their sentences. Wenham will now serve 6 years and Siksnys 5 and a half years.
Commenting after the hearing, the Solicitor General said:
"Wenham and Siksnys carried out a sustained attack against their victim, failing to stop either when called out by witnesses or when their victim fell unconscious. I am pleased that the Court of Appeal has today agreed with my referral, and hope this brings some comfort to the victim."
Published 26 July 2018