Better protection from intruders and excessive compensation costs
Ken Clarke has announced tough measures to protect people from intruders, dangerous criminals and excessive no-win no-fee legal costs.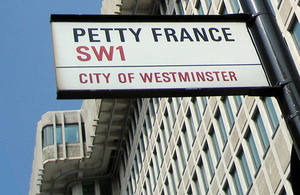 He set out plans for the Legal Aid, Sentencing and Punishment of Offenders Bill as the latest in a series of radical moves to reduce reoffending, improve sentencing and reform the legal aid system.
Mr Clarke said he would:
Make squatting in residential buildings a criminal offence to end the misery of home-owners whose properties have been preyed on by squatters.
Strengthen people's rights to use force to defend themselves from intruders in their own homes.
Give magistrates power to hand down bigger fines.
Ban the referral fees which have allowed middle-men to profit from encouraging others to make unnecessary compensation claims.
Mr Clarke said:
'People should feel safe in their communities and especially in their own homes and these measures, along with the rest of our radical package of reforms, will ensure they are protected.'
Squatting
'Far too many people endure the misery, expense and incredible hassle of removing squatters from their property. Hard working homeowners need and deserve a justice system where their rights come first. Our commitment to this new offence will ensure the law is firmly on the side of the homeowner so that quick and decisive action can be taken.'
Magistrates' courts fines
'We will remove the £5,000 cap on fines that can be issued by Magistrates so that they are able to use their discretion and set fines that are proportionate to the offences they are seeing.'
Self-defence
'While fleeing is usually the safest option if you feel threatened, people are not obliged to retreat when defending themselves or their homes. We will ensure that if you do react instinctively to repel an intruder you will not be punished for it - as long as you used reasonable force.'
Referral fees
'Until now, middle-men have been able to profit from selling personal injury claims on to solicitors for a fee. So of course they encouraged people to sue as a first, rather than last option. We all ended up paying through higher prices and insurance premiums. Our ban on referral fees together with our changes to no win no fee arrangements will reduce legal costs and speculative suing, so that businesses, schools and individuals can be less fearful of unnecessary claims encouraged by those looking for profit rather than justice.'
The new measures will be debated in the House of Commons next week and, if passed by vote, will be added to Legal Aid, Sentencing and Punishment of Offenders Bill which is currently progressing through Parliament.
The Bill already contains radical moves to reduce reoffending, improve the UK's sentencing framework and reform the legal aid system.
The Bill forms part of the Ministry of Justice's plans to:
make prisoners work harder, longer and on meaningful tasks;
ensure prisoners earn money for victims, and not just for themselves;
crack down on drug abuse inside prisons; 
demand more from offenders in tackling the root cause of their criminality; 
only put taxpayers' money into the programmes that work.create a new offence of aggravated knife possession, with a mandatory prison sentence of at least six months;
reduce the £2.1billion per year legal aid bill for England and Wales but retain legal aid for cases where people's life or liberty is at stake, where they are at risk of serious physical harm, or immediate loss of their home, or where their children may be taken into care;
and reform the laws for no-win, no-fee so that the risks are equally balanced for both claimants and defendants and middle-men do not drive up insurance costs for individuals and fuel fears of a compensation culture.
Notes to editors
Published 26 October 2011