News story
Better coordination is tackling the rise in IP crime
Assessing the impact of IP crime is difficult, but figures from Business Action to Stop Counterfeiting and Piracy (BASCAP) estimate that it …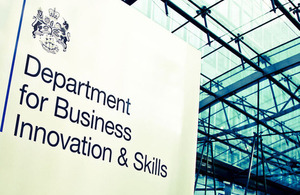 Assessing the impact of IP crime is difficult, but figures from Business Action to Stop Counterfeiting and Piracy (BASCAP) estimate that it costs the UK around €500 million in lost tax revenue and welfare payments and results in around 15,000 jobs losses a year in the short term.
The production of fake goods remains the key activity of IP crime, with clothing, cigarettes, DVDs, alcohol and footwear being the most common counterfeit items. But with the growth in digital content and services, and the borderless nature of the internet, there has been a corresponding rise in digital crime.
The report also highlights the threat to consumers posed by potentially harmful fake products such as toys, batteries, cosmetics and electrical goods.
A more strategic approach to enforcement, through an updated IP crime strategy published last year, and more effective coordination of key bodies including local trading standards, HMRC and the UK Border Force, is yielding results.
The report reveals the success of coordinated action being taken by Government, industry and enforcement agencies to tackle IP crime, for example:
HMRC and Customs and Border Force together detained counterfeit goods arriving into the UK with a value of £70 million.

In one operation, trading standards seized fake branded golf equipment and computer accessories worth over £1.5 million. This prevented criminals from making a £7 million profit and led to the conviction of six people for money laundering and fraud.

An online trader of counterfeit and unlicensed medicines was convicted and ordered by the Crown Court to repay £14.4 million from the proceeds of his crime. Led by the Medicines and Healthcare products Regulatory Agency (MHRA) and assisted by the North West Regional Asset Recovery Team, this is the largest confiscation order for counterfeit medicines.
With the internet and social media networks increasingly being used by criminals as a route to sell their counterfeit products, the industry has responded with:
The Publishers Association issuing over 200,000 takedown notices of infringing copyright content on website

The British Recorded Music Industry (BPI) identifying and removing over four million illegally hosted digital music files.
The Minister for Intellectual property, Baroness Wilcox said:
"I am encouraged to see so much activity being undertaken to tackle IP crime. This report demonstrates that the most effective model of enforcement is where government, industry and enforcement agencies work together to act as a powerful force against organised criminals.
"I saw this type of coordinated work in action in the market in Manchester where I was witness to the seizure of pirated DVDs and CDs. I also recently visited Coventry Postal Hub where potentially dangerous counterfeit goods are intercepted before they reach the consumer.
"Raising public awareness is vital - and the IP Crime Group and its members are providing guidance for business and consumers. It is very encouraging to see such a coordinated approach, which I will continue to champion."
The Intellectual Property Office has launched a 'Best Practice' web page, bringing together advice for businesses, consumers and enforcement agencies on protecting and enforcing IP rights; including the IP Crime Group's 'Preventing IP Right Infringement in the Workplace' e-guide to aid the prevention of infringing others' IP rights.
Notes to editors:
The IP Crime Group was formed in 2004 by the Intellectual Property Office (IPO) to bring together experts from industry, enforcement agencies and government to work together on piracy and counterfeiting issues.

The IP Crime Report can be found at http://www.ipo.gov.uk/ipcreport11.pdf

The IPO is within the Department for Business, Innovation, and Skills (BIS) and is responsible for the national framework of Intellectual Property rights, comprising patents, designs, trade marks and copyright.
Its role is to help manage an IP system that encourages innovation and creativity, balances the needs of consumers and users, promotes strong and competitive markets and is the foundation of the knowledge-based economy.
It operates in a national and an international environment and its work is governed by national and international law, including various international treaties relating to Intellectual Property (IP) to which the United Kingdom is a party.

The Government's economic policy objective is to achieve 'strong, sustainable and balanced growth that is more evenly shared across the country and between industries.' It set four ambitions in the 'Plan for Growth' (PDF 1.7MB), published at Budget 2011:
To create the most competitive tax system in the G20
To make the UK the best place in Europe to start, finance and grow a business
To encourage investment and exports as a route to a more balanced economy
To create a more educated workforce that is the most flexible in Europe.
Work is underway across Government to achieve these ambitions, including progress on more than 250 measures as part of the Growth Review. Developing an Industrial Strategy gives new impetus to this work by providing businesses, investors and the public with more clarity about the long-term direction in which the Government wants the economy to travel.
BIS's online newsroom contains the latest press notices and speeches, as well as video and images for download. It also features an up to date list of BIS press office contacts. See http://www.bis.gov.uk/newsroom for more information.
Notes to Editors
Contact Information
Name BIS Press Office Job Title
Division Department for Business, Innovation & Skills Phone
Fax
Mobile
Email bispress.releases@bis.gsi.gov.uk
Name Nic Fearon-Low Job Title
Division Department for Business, Innovation and Skills Phone 020 7215 5078 Fax
Mobile
Published 16 July 2012