News story
Best of the Best awards recognise outstanding partnerships
The Best of the Best Awards 2014 took place last night (Tuesday 4 November).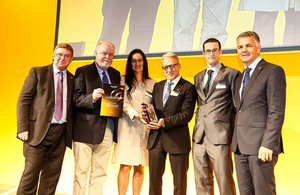 Last night's Best of the Best Awards 2014 recognised the stand-out successes of this year's Knowledge Transfer Partnerships.
Knowledge Transfer Partnerships (KTPs):
help businesses access knowledge and expertise within UK universities and colleges
ensure results for the business and academic partners, and the recently qualified Associate who delivers the project
Transforming packaging
Associate Andrew Gill, Sheffield University and packaging specialist Floreon won 'Best UK Partnership'.
An overjoyed Andrew explained how the KTP helped take his business forward:
This award recognises the outstanding achievement of the KTP. We formed a completely new company, created 5 jobs and have an expected annual turnover of £20 million in 2 years' time.
He continued:
The KTP has been fantastic for my career and I am now a director and shareholder of the company. I would like to thank Shaun Chatterton of Floreon and Alma Hodzic from the University of Sheffield for their brilliant support.
Shaun Chatterton of Floreon – which is transforming packaging – added that his company wouldn't have existed without the KTP.
Awards recognised were:
Best UK Partnership winner – Associate Andrew Gill, Sheffield University and Floreon
This award best exemplifies the benefits of collaboration for innovation
Business Leader of Tomorrow winners –

Shervin Younessi

Diana Nyamugure

Daniel Smith

Paul Callender

Miguel Martinez-Alvarez
The Business Leader of Tomorrow awards recognised the achievements of Associates who, while working on their KTP project, have best demonstrated the potential to become a future business leader
Business Impact winner – Quadralene Limited
The Business Impact award recognised the company partner that has continued to demonstrate outstanding impact in the years subsequent to their KTP
Engineering Excellence winner – YASA Motors Limited, Oxford Brookes University and Jonathan Biddulph
The Engineering Excellence award, sponsored by the Royal Academy of Engineering, recognised partnerships that have demonstrated excellence in the application of engineering skills
Academic Ambassador winner – Professor Susan Taylor
The Academic Ambassador award recognised the outstanding contribution made to a KTP by a member of academic staff
RCUK Knowledge Base Impact winner – The Phoenix Partnership (Leeds) Limited, University of Leeds and Samantha Crossfield
The RCUK Knowledge Base Impact award recognised the Research Council-funded partnership that has delivered outstanding best UK partnership
RCUK Societal Benefit winner – Nottinghamshire Fire and Rescue Service, Nottingham Trent University and Thomas Simpson
The RCUK Societal Benefit award recognised the Research Council-funded partnership that has delivered outstanding societal benefit Knowledge Transfer Partnerships is a UK-wide programme. It's funded by Innovate UK and other public sector partners. The programme supports UK businesses to improve innovation, competitiveness, productivity and performance. This is achieved through better use of knowledge, technology and skills available within universities and other parts of the UK knowledge base.
Published 5 November 2014