World news story
Best of British tea brands showcased in Kolkata
The British Deputy High Commission organised a tea tasting event in Kolkata today to showcase the 'Best of British tea brands'.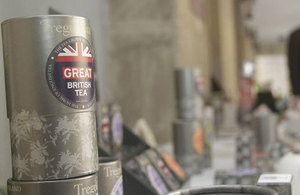 A range of tea companies including popular world brands like Typhoo and Goodricke were on display. Tregothnan Tea, the only company to grow tea in the UK, was also displayed and brewed for tasting. Other exquisite teas at the showcase were from companies like:
Harp and Lyre
Hampstead Tea
Darvilles of Windsor
Wedgewood
East India Company
Newby
London Tea Company
At the event, eminent British tea expert Malcolm Ferris-Lay gave a demonstration of the art of tea tasting. Mr Ferris-Lay, who comes from a family steeped in tea history, talked about the origin of tea and the British role in bringing tea to India and other tea-growing areas of the world. He also highlighted the unique brands and blends produced by UK tea companies.
Ferris-Lay said,
Tea is a beautiful drink and the entire concept of afternoon tea as a time to refresh and relax is growing around the world in areas as diverse as North America, Russia, West Asia and Germany.
He charted the growth of tea from simple green and black brews to a range of blends and infusions today.
On the occasion, the British Deputy High Commissioner, Scott Furssedonn-Wood, welcomed the participants. He talked about the role the UK played not just in pioneering tea cultivation across the world but also in branding blends and making tea a choice drink internationally.
Further information
Malcolm Ferris - Lay
Malcolm Ferris - Lay is an eminent tea expert with over 40 years experience in the tea industry. Malcolm formed his own company – Tea Consultancy - after retiring from Williamson Tea, one of the world's largest family-owned tea companies employing 120,000 staff worldwide and producing over 70 million kgs of tea annually as Managing Director.
Malcolm's clients include:
Atlantis The Palm Hotel & Resort Dubai
Ritz-Carlton Dubai, Rosewood Mansion on Turtle Creek (Dallas) The Dorchester
The Savoy
Wedgwood
The Royal Collection (Buckingham Palace and Windsor Castle) Althorpe House
Malcolm has lectured for the Royal Oak Foundation in Chicago, London, Dubai, Sydney, Tokyo and Bahrain.
Malcolm freely admits that he is passionate about tea; a passion he appears to share with a number of his family. Great Grandfather Bawtry Lay was a friend and crewmember on Sir Thomas Lipton's ill fated attempts to securing the Americas cup. Bawtry`s father, Jeremiah was a Master Mariner and brought teas back from the East on the huge sailing vessels which have a place in history.
Profile of UK tea companies
Tregothnan Tea:
Tregothnan Tea is the first and only producer of tea in England. It was the inspired idea of Evelyn Boscawen, eldest son of the ninth Viscount Falmouth, whose family have owned the estate since the 14th century. Tea thrives at Tregothnan by the deep sea creek of the River Fal in Cornwall. The first tea grown in England, Tregothnan's Afternoon Tea is hand-picked on their estate in Cornwall and blended with Darjeeling leaves. One of their most popular blends, marketed as the GREAT British tea, is a hearty mix of Cornish tea leaves and the most premium Assam.
Britannia Tea:
Britannia Tea is a leading supplier of some of the finest teas in the world. With a history of many generations trading on the Silk Route, Britannia Tea today has grown into a global operation that sources its teas from trusted and environmentally conscious producers. Their mission is to provide the finest and highest quality teas that meet traditional and current tastes, while maintaining the excellence and value required and expected by the modern consumer.
Wedgewood:
Wedgewood is the proud holder of the Royal Warrants by Appointment for tableware and giftware to Her Majesty The Queen for Wedgewood, and to His Royal Highness The Prince of Wales and Her Majesty The Queen for Royal Doulton. Wedgewood is a leading provider of luxury home and lifestyle products worldwide. It maintains a portfolio of iconic brands and associations with unique designers including Vera Wang, Jasper Conran, Monique Lhuillier, John Rocha, Gordon Ramsay and Donna Hay.
Their products are sold in luxury and premium department stores and speciality retailers, including:
Neiman Marcus
Bloomingdale's
Macy's
Harrods
Selfridges
John Lewis
Takashimaya
Lane Crawford
David Jones
The Bay
Palacio de Hierro.
Darvilles of Windsor:
Darvilles of Windsor is a long-established family business and has been blending and supplying teas for over 140 years. They have the Royal Warrant for over fifty years. The Warrant, granted by Her Majesty The Queen, was first awarded to Darvilles by King George VI in 1946 - and they are the oldest company in Windsor to have this recognition of quality and service. Darvilles of Windsor offers a range of excellent traditional blends, including the Royal Assam tea with its unique flavour.
Grey's Tea:
Grey's Tea was founded in 2000 by Richard Grey, descendent of the Earl Grey. Earl Grey, a traditional blend of China Keemun, Darjeeling and oil of Bergamot, was named after Second Earl Grey (British Prime Minister 1830-1834). It is one of the most popular teas in the world. Grey's Tea offers classic English blends and large leaf speciality including black, green, oolong, white and flavoured teas. Most of their teas are sourced through the Ethical Tea Partnership.
Newby Teas:
Newby Teas was established in London in 2000 and is a family business with over three generations' experience in the tea industry. Starting with 12 products, today Newby offers over 150 products and has offices all around the world including Norway, Sweden, Switzerland, Russia, Poland, Dubai, Singapore and India. Newby teas are internationally recognised for their outstanding quality and have won numerous awards in the UK but most importantly in the North American Tea Championship. Newby's prestigious customers include Stirling Castle, Westminster Abbey and many other prestigious venues, apart from some of the finest hotels and restaurants in the world.
Harp & Lyre:
Harp & Lyre is an award winning speciality tea company based in Gateshead in the North East of England. It is a family-owned company with three generations of tea heritage. Harp & Lyre are suppliers to the House of Lords, UK and to other esteemed establishments in the retail and hospitality sector. Harp & Lyre's luxury tea bags are made from SOILON – a 100% biodegradable woven filter mesh derived from corn starch. SOILON is highly permeable and has natural antibacterial and antifungal properties, making it the ideal material to hold leaf tea, leaving room to brew for a fine and flavoursome liquor. Harp & Lyre is an accredited supplier of The Guild of Fine Food, UK and a member of Taste North East, UK and is a Gold Star Winner at the Great Taste Awards 2011 and 2012.
London Tea Company:
The London Tea Company aims to become the leading Fairtrade certified tea brand for both retail and foodservice customers, offering blends which are ethical, adventurous and fun whilst delivering a great tasting cup of tea. Their high quality range of envelope tea bags, pyramid infusers and loose leaf tea is packaged in bright contemporary colours and enjoyed in countries such as Canada, The Netherlands, Finland, Denmark, Sweden, Portugal, Hungary, Malta and Italy. Prestigious hotels, bars and restaurants in the UK use London Tea Company's products due to their unique flavours.
Typhoo Tea:
Typhoo has indulged tea enthusiasts and refined tea drinking experience the world over since its inception in the UK in 1903. With a portfolio of 12 brands and over 400 products, Typhoo is being enjoyed in more than 50 countries including USA, Canada, Europe, Australia, New Zealand & South Africa. Defining the changing tastes and preferences of the urban Indian consumers, Typhoo, the third largest brand from UK, brings this refreshing, rejuvenating experience to India with a variety of high quality specialty teas, and 100% natural fruit infusions.
Goodricke:
Goodricke, established in 1978 in West Bengal, is a group company of Camellia PLC, U.K., the second largest global tea producer. Goodricke is India's leading producer of premium teas. The Group comprises 30 tea gardens and 27 factories spread over Darjeeling, Assam & Dooars. Goodricke is currently the second largest tea producer in India. The teas include Darjeeling, Green, Black and Boutique Teas. Their premium range of Darjeeling Teas, called Castleton, is named after the renowned Castleton gardens. The tea range is divided into three sub brands- Castleton Exclusive Edition, Castleton Premium and Castleton Vintage. While the first has unique muscatel overtones, the second has an aroma that is prized by connoisseurs; the third is a toast of Darjeeling. Each of the brands is single estate teas and is certified by the Rainforest Alliance.
Follow UK in India on Twitter, Facebook, Flickr, YouTube, LinkedIn, Storify, Eventbrite, Blogs, Foursqare
Published 6 February 2014