News story
Best of British showcased to Commonwealth leaders in London
Duke of Cambridge hosts Commonwealth leaders and over 1,500 guests at 'Welcome to the UK Reception' at the start of the Commonwealth Heads of Government Meeting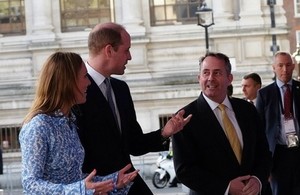 The Department for International Trade's (DIT) GREAT campaign curated an array of interactive showcases to entertain guests at the 'Welcome to the UK Reception', marking the first day of the Commonwealth Heads of Government Meeting (CHOGM) in London.
The Duke of Cambridge welcomed all 52 of the other Commonwealth countries to London at the reception, which presented the best of British expertise, innovation and creativity.
The interactive showcases included:
a virtual reality experience, with British astronaut Tim Peake, by the Science Museum
the men's and women's Cricket World Cup and Premier League trophies brought to life by sport stars Alan Shearer and Ebony-Jewel Rainford-Brent, explaining the impact of sport on the Commonwealth
a display of Commonwealth fashion, as part of the Commonwealth Fashion Exchange project, showcasing designers and artisans from each of the 53 countries
Promoting UK food and drink, the GREAT campaign allowed guests to sample the very best of British cuisine, with products from each nation of the UK. They ranged from classics like Welsh lamb and Scottish smoked salmon to cutting-edge ice cream - frozen in front of the guests using liquid nitrogen.
International Trade Secretary Dr Liam Fox said:
As we welcome the Commonwealth Heads of Government to London, it was fantastic to show our friends the very best of what Britain has to offer – from innovation, sport and cuisine.
As an international economic department, we will continue to promote business and trade with all Commonwealth members driving prosperity both at home and abroad.
Published 18 April 2018