Best of British manufacturing
The Government joins manufacturers this month to celebrate British manufacturing and explore how the sector can support economic growth.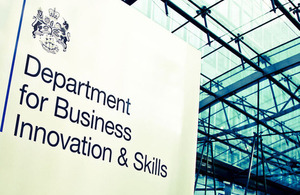 The Manufacturing Summit on Thursday 23 February, hosted by Business Secretary Vince Cable and Business Minister Mark Prisk, brings together government and and key industry leaders to discuss and debate progress, the upcoming challenges and next steps for the sector.
The Summit builds on the success of last year's event held at BIS, and follows recent news that the sector expanded at its fastest pace since March 2011. It will look at areas including:
Promoting manufacturing.
Commercialisation of technology.
Apprenticeships.
University Technology Colleges: opportunities for manufacturers.
Access to Finance.
Exports.
Vince Cable said;
"Building on this country's strengths, we are working with businesses to support and grow the UK's manufacturing capabilities, encourage innovation, develop supply chains, promote exports, business investment and improve skills.
"Our Manufacturing Summit creates the perfect platform for us to further strengthen our relationship with industry, and, more importantly, hear what its leaders have to say."
Formula One: Motorsport exhibition creates a buzz
With the focus on manufacturing this week, the latest exhibition to showcase the very best in British expertise went on display at the BIS offices in London.
Major names in motorsport - including Williams F1, Mercedes, Cosworth and Goodridge - have gathered in 1 Victoria Street to highlight the UK F1 Motorsport manufacturing industries and the transfer of technology from motor sport to other industries. All of the companies taking part have come together under the banner of the Motorsport Industry Association (MIA).
Its star attractions are two Formula One cars - Nico Rosberg's 2010 Mercedes AMG Petronas car and Williams F1's car from last season - and a Lola LMP1 (Le Mans Prototype) sports car, which are on display on the forecourt outside the building.
High Performance Engineering and Motorsport (HPEM) is a global industry centred on the UK's 'Motorsport Valley®' - a business cluster located in the centre of the UK, with Oxford at its centre. The valley houses 3,500 UK businesses - 89 per cent of these are SMEs.
The UK motorsport industry employs 40,000 people, including 25,000 highly-skilled engineers. It generates global sales of £7 billion annually and invests £1 billion in R&D every year - more than 30 per cent of sales revenue. Current Formula One champions Red Bull Racing are based in Milton Keynes.
Links
Published 20 February 2012