World news story
"Best of British Education" expo held in Armenia
The British Embassy Yerevan showcases British education and training opportunities available in Armenia.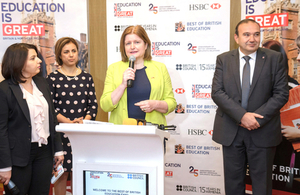 On 25 October, the British Embassy Yerevan and British Council hosted the Best of British Education expo – the first ever exhibition of British education opportunities held in Armenia. The event showcased the range of products available for all ages – from children to career professionals.
Amongst the exhibitors was the University of Sheffield which launched an MBA taught in Armenia in 2016. The International Academy of Business presented the range of British professional qualifications it offers to managers and accountants such as CMI, CIMA and ACCA. The Cambridge International School, the British International School and the United World Colleges exhibited opportunities to study for UK secondary level qualifications in Armenia.
The British Embassy gave presentations on the FCO's Chevening programme, offering Masters-level scholarships in the UK; and the John Smith Trust fellowship for early to mid-career professionals. The British Council presented English language teaching, learning and testing programmes. Armenia's official distributors of British world famous publishing companies such as the Oxford University Press, Cambridge University Press, Dorling Kindersley and Longman/Pearson were also represented.
The expo proved to be hugely popular in Armenia, drawing around seven hundred young people, children and their parents. The Minister of Education and Science of Armenia Mr Levon Mkrtchyan described the exhibition as an example of the collaboration with British partners over many years. The Minister thanked both the British Embassy and the British Council for their projects, in particular efforts to support improved English language teaching at schools.
In her welcoming speech, Her Majesty's Ambassador to Armenia Ms Judith Farnworth thanked the Ministry of Education and Science of Armenia for their continued cooperation; and the British Council for their investment in promoting British education and culture in Armenia. She said:
An important element of diplomatic work is the promotion of people-to-people contacts. Education and culture play a very important role in this respect. Today's event shows we have a very strong foundation to build on - and the number of people here today shows the level of interest toward the British education.
The expo was one of the series of events organised by the British Embassy Yerevan to celebrate the 25th anniversary of UK-Armenia diplomatic relations.
You can find the photos of the event on the British Embassy Yerevan's Facebook page.
Published 1 November 2017