News story
Best of British business receive Queen's Awards for Enterprise
A total of 209 Queen's Awards have been announced this year for business achievement. Overall, 151 companies have won Awards for International…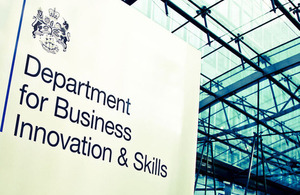 A total of 209 Queen's Awards have been announced this year for business achievement. Overall, 151 companies have won Awards for International Trade, 50 for Innovation and eight for Sustainable Development. The standard of entries in this, the Queen's Jubilee year, has been the highest ever, with nearly 25 per cent of entrants gaining an Award.
In addition, 11 individuals have received The Queen's Award for Enterprise Promotion (QAEP) for their inspiring efforts to encourage UK entrepreneurship.
Business and Enterprise Minister, Mark Prisk said:
"The Queen's Awards for Enterprise are the highest accolade a business can receive. The standard of this year's winners highlights the great work taking place by businesses of all sizes to help boost the growth of the UK economy. I hope that it will inspire more entrepreneurs to start or grow their business as we look to make 2012 the year of enterprise.
"It is a fantastic achievement for all of the businesses that have received an award and I would like to congratulate them on making such a valuable contribution across all business sectors."
Winning firms cover a vast range of business sectors. These include architecture and design, building and construction, motoring and transport, electronics and technology, manufacturing and engineering, law and finance, tourism and leisure, medical and pharmaceuticals, food and drink, oil and gas, media and marketing, metals, plastics and packaging, safety and surveillance, printing, recycling, logistics, utilities and more.
They range from enterprising small businesses with as few as three employees to household names such as Nissan, B&Q plc and Marks and Spencer Group plc. There are four multiple award winners this year in the International Trade and Innovation categories: Agento Ltd trading as Revector; ICC Solutions; Racelogic and Ubisense Group plc. Sun Mark Ltd have become the first ever company to win an Award in four consecutive years.
Winners of The Queen's Awards can expect a company visit by a Royal representative during the year to present a crystal bowl and an invitation to attend a special reception at Buckingham Palace. They can also use The Queen's Award Emblem in advertising, marketing and on packaging for a period of five years as a symbol of their quality and success.
In a recent survey of the Queen's Awards winners:
83 per cent of winners said it brought prestige to their business
48 per cent of winners said it gave them an edge overseas
79 per cent of winners reported improved staff morale
63 per cent of winners gained extra press coverage
The awards are made annually by HM The Queen, and are only given for the highest levels of excellence demonstrated in each category. They are judged to a demanding level and winners receive a number of benefits and worldwide recognition.
**To find out more about next year's awards visit http://www.businesslink.gov.uk/queensawards **
---
Notes to editors
---
Business Link is the Government's online resource for businesses. It contains essential information, support and services for you and your business - whether you work for a large organisation or are on your way to starting up. www.businesslink.gov.uk.

A full press book of winners, including descriptions on all 209 business Award winners and 11 recipients of The QAEP is attached.

Prior to 21 April 2012, media should only approach named press contacts of 2012 Award winners about their achievements provided that there is no publication or publicity before 00.01 BST on Saturday 21 April 2012. These contacts are detailed in the full press book.

The Queen's Awards for Enterprise are the UK's most prestigious Awards for business success. There are four categories of Queen's Awards - three for business success (International Trade, Innovation and Sustainable Development) and one for individual achievement in encouraging UK entrepreneurship (The Queen's Award for Enterprise Promotion). Companies apply for the Business Awards, but individuals must be nominated for The QAEP.

The Queen's Awards were originally established in 1966, when they were known as The Queen's Awards to Industry. In 1976 they were replaced by two separate Awards - 'The Queen's Award for Export Achievement' and 'The Queen's Award for Technological Achievement'. A third Award was added in 1993 - 'The Queen's Award for Environmental Achievement'. In 2000, the Awards were renamed The Queen's Awards for Enterprise, and the three categories changed to International Trade, Innovation and Sustainable Development. The Queen's Award for Enterprise Promotion was added in 2004.

This year the Government is running the _Business in You _campaign to encourage more people to start or grow their business throughout 2012 using a range of existing support services. More information is available at businessinyou.bis.gov.uk.
ISSUED ON BEHALF OF THE QUEEN'S AWARDS OFFICE BY THE DEPARTMENT FOR BUSINESS INNOVATION AND SKILLS
Notes to Editors
Contact Information
Name BIS Press Office Job Title
Division Department for Business, Innovation & Skills Phone
Fax
Mobile
Email bispress.releases@bis.gsi.gov.uk
Name Dan Palmer Job Title
Division Department for Business, Innovation and Skills Phone 020 7215 5303 Fax
Mobile
Published 21 April 2012