'Best in the business' bidding to rehabilitate offenders
Thirty bidders who have passed the first stage of a competition to win regional rehabilitation contracts and lead the new era in a fight against reoffending were named today by the Ministry of Justice.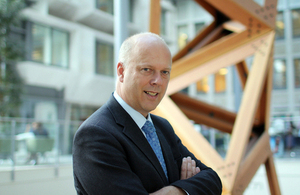 The bids are from a diverse mix of partnerships with more than 50 organisations represented. Private firms, charities experienced in tackling a range of issues affecting offenders, small and large British businesses and experienced multinationals have joined together to bid for the work that will help turn offenders' lives around.
Mutuals formed by probation staff also have the opportunity to play a major role in the reforms, with around a third of the shortlisted bidders including these groups.
All of the bidders have experience working with offenders or across the wider criminal justice system.
The competition winners will provide targeted rehabilitation to offenders across England and Wales. Our reforms will see, for the first time, every offender released from custody receive at least 12 months supervision in the community to help them turn their backs on crime.
This support will be crucial in tackling our stubbornly high reoffending rates that currently see 600,000 crimes committed each year by those who have already broken the law.
Justice Secretary Chris Grayling said:
"Not only does this competition usher in a fresh and innovative way of rehabilitating offenders – it also shows the Government doing business differently.
"Under this new approach voluntary groups, charities, small and medium enterprises, larger companies and the public sector will work hand-in-hand to turn around the lives of offenders and make our communities safer.
"This competition will deliver real value for the hardworking taxpayer and ensure we get the best in the business when it comes to rehabilitating offenders."
The contracts, together worth around £450 million each year, have been split across 20 regions for England and one for Wales with responsibility for supervising and rehabilitating around 225,000 low and medium risk offenders.
Along with the 30 lead providers who have passed the competition's first-stage, a further 800 organisations have expressed an interest in playing a role as part of the wider supply chain. Among these are hundreds of British organisations, employing many thousands of people and more than 550 voluntary sector organisations.
Providers will only be paid in full if they are successful at reducing reoffending, helping drive innovation and getting best value for hard-working taxpayers.
Along with extending community supervision to all offenders, we will be providing resettlement facilities at 82 prisons so offenders are held closer to their home, allowing us to deliver proper through-the-gate support.
We are also launching a new public sector National Probation Service, working to protect the public from high risk offenders and building upon the expertise and professionalism of the existing Probation Service.
Notes to editors:
Table A below lists the 30 bidders who have been shortlisted following the competition first-stage:
We expect to announce successful bidders to be in place and delivering services by 2015.
We currently intend to apply a 25 per cent cap on market share for each bidder.
For further details on our Transforming Rehabilitation reforms.
For further information on our ongoing competition process.
For further information please contact the Ministry of Justice press office on 020 3334 3536 @MoJPress.
| Bidder name | Partners include |
| --- | --- |
| A4E |   |
| ARCC Ltd | Fabrick Housing; the Wise Group; Safe in Tees Valley; Tees Esk and Wear Valleys Foundation Trust; the Vardy Foundation; Changing Lives in the North East CIC (potential Durham Tees Valley staff Mutual) ; Stockton Borough Council; Darlington Borough Council |
| Aspire2 Change Ltd (Essex Probation Trust potential Mutual) |   |
| Capita Plc |   |
| Chalk Ventures Ltd | A4e Ltd; Bridges Ventures LLP; Co:here (potential Kent Surrey Sussex staff Mutual) |
| Crime Reduction Initiatives Ltd |   |
| CRR Partnership Ltd | Carillion Plc, Reed in Partnership Ltd; Rehabilitation for Addicted Prisoners Trust (RAPt) |
| EOS Works Ltd |   |
| GEODelta | Geo Group UK Ltd; Delta Rehabilitation Ltd (potential Humberside, Lincolnshire and York and North Yorkshire staff Mutual) |
| GMCSodexo | Sodexo; Greater Manchester and Cheshire Staff Group (potential Greater Manchester and Cheshire Staff Mutual) |
| Hampshire Rehabilitation Services | Hampshire County Council; Altered Images Management Ltd (potential Hampshire Probation Trust Staff Mutual) |
| Home Group Ltd |   |
| Ingeus UK | Ingeus UK; St Giles Trust; Crime Reduction Initiatives (CRI) |
| Innovo (CLM) Ltd | Innovo (CLM) (potential Cumbria, Lancashire, Merseyside staff Mutual); The Manchester College |
| Interserve Investments Ltd |   |
| Home Group and Mercia Community Action | Home Group; Mercia Community Action (Mercia Community Action is a CLG comprising a potential mutual of staff from West Mercia and Warwickshire Probation Trust and Willowdene Rehabilitation) |
| Momentis and Home Group | Home Group; Momentis (potential Mutual including Leicestershire and Rutland Probation Trust staff) |
| MTC Amey | MTC (UK) Ltd; Amey Community Ltd |
| Northern Inclusion Consortium Ltd | DISC; The Cyrenians; Groundwork NE; Mental Health Concern; Spectrum Community Health CIC |
| Pertemps People Development Group |   |
| Prospects Services |   |
| Prospects Resolutions Ltd | Prospects Services; Resolutions Ltd (potential West Yorkshire staff mutual) |
| Seetec Business Technology Centre Ltd |   |
| Sentinel Offender Services Ltd |   |
| Shaw Trust | Shaw Trust; (potential involvement of Dorset Devon and Cornwall staff mutual) |
| Sodexo UK & Ireland |   |
| The GEO Group UK Ltd |   |
| The Manchester College |   |
| The Rehabilitation Company | Catch 22 Ltd; Turning Point; Williams Lea (division of DHL) |
| Working Links |   |
Published 19 December 2013