Bermuda: the economy and tourism
The Premier of Bermuda, Dr Hon. Ewart Brown, paid an introductory call on Henry Bellingham MP, Minister for the Overseas Territories.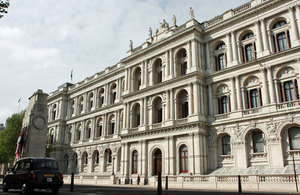 In welcoming the Premier, the Minister noted Bermuda's efforts to counter the effects of the economic downturn and the importance of adhering to sound regulatory standards in the financial services industry and the aviation sector to maintain Bermuda's reputation as a high quality jurisdiction.
The Premier briefed the Minister on recent initiatives in Bermuda to tackle crime and social issues, and to promote tourism. Speaking after the meeting, the Minister commented:
'The Premier and I enjoyed a good discussion and we both agreed on the need for a new co-operative relationship. I look forward to the meeting of Overseas Territory leaders later this year and to forging a new partnership with the Overseas Territories as a whole.'
The Minister noted that the Premier would be standing down from office in the autumn and wished him well for his life after politics.
Search the news archive
Published 24 June 2010