World news story
Belizeans awarded Chevening Scholarship
Seven individuals from Belize have been awarded a prestigious Chevening Scholarship by the British government to study a one-year postgraduate course in the UK.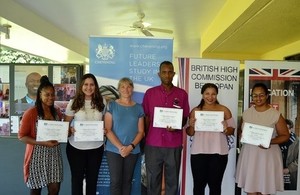 Funded by the Foreign and Commonwealth Office (FCO), the Chevening scholarships enable outstanding emerging leaders and influencers to pursue a one-year Post Graduate degree in their field of expertise at any UK university.
The programme provides individuals with a unique opportunity to develop professionally and academically, build networks, and to explore and experience the UK culture through fully-funded scholarships.
This year's Chevening awardees who will travel to the UK in the next few weeks to begin their studies are:
Miss Cinnamon Bottaro (MA in Conflict, Security and Development)
Miss Shari Bowen (MSc in Tourism and International Development)
Mr Jaraad Ysaguirre (LLM in International Commercial Law with International Banking Law and Financial Regulation)
Mr Lloyd (Ian) Smith (MSc in Information Technology Systems Administration and Management)
Miss Janine Cayetano (MSc in Clinical and Community Psychology)
Miss Sylvia Batty (MA in Public Archaeology)
Miss Nicole Haylock (MSc in International Security and Global Governance ).
Each scholarship is valued at approximately BZ$100,000.
Published 24 August 2017