BEIS Secretary of State appoints new chair to the Committee for Radioactive Waste Management
Greg Clark appoints Sir Nigel Thrift as the new Chair to the Committee on Radioactive Waste Management (CoRWM).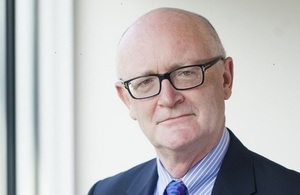 Sir Nigel has been appointed from 2 July 2018 for a term of 4 years.
The appointment has been approved by the devolved administrations.
The ministers and Secretary of State expressed their thanks to the previous Chair, Laurence Williams, and interim chair, Campbell Gemmell for their services.
Sir Nigel Thrift
Until last year, Sir Nigel was the Executive Director of Schwarzman Scholars. He is one of the world's leading human geographers and previously served as Vice-Chancellor and President of the University of Warwick and as Pro-Vice-Chancellor for Research at the University of Oxford.
Information on CoRWM
CoRWM provides independent scrutiny and advice to UK government and devolved administration ministers on the long-term management of radioactive waste, including storage and disposal. The committee's primary task is to provide independent scrutiny on the UK government's and Radioactive Waste Management Ltd's (RWM's) high profile programme to deliver geological disposal, together with interim storage, for higher activity wastes.
CoRWM is an advisory non-departmental public body, sponsored by BEIS.
Published 2 July 2018