Behind the scenes at Dounreay
A new film is offering a unique insight to the work going on to take apart one of the most complex nuclear sites in Europe.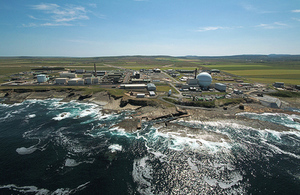 The video, produced by local filmmaker Jill Innes, goes behind the scenes at Dounreay, which was once the UK's centre of fast reactor research.
David Lowe, Deputy Managing Director, said:
"We wanted to showcase the full range of roles, as well as plants, at Dounreay. It is a real team effort to decommission a site of this scale and this film aims to capture that. It doesn't matter whether you are a decommissioning operator, work in an office or have a crucial role with safety, security or environmental protection – everyone plays a part.
"For those who haven't been able to see Dounreay for themselves, this short film shows what we are doing to progress the site's clean up and reach an interim end state."
The film has been created to coincide with the launch of a new and updated Dounreay website. The new platform offers improved navigation and is compatible with mobile devices, such as smartphones, which are used by an increasing number of visitors to the website.
Jill, founder of Storyboard Films, established her business after being helped by a scheme which benefited from Dounreay's socio-economic fund. The Nuclear Decommissioning Authority, as well as Dounreay, has invested more than £10 million in the last decade alone to help create new and sustainable jobs in Caithness and North Sutherland.
Published 20 April 2017