Press release
Become a Volunteer Assistant Lock Keeper
Join the River Thames team in 2015 and become a Volunteer Assistant Lock Keeper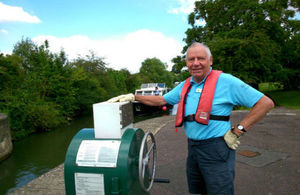 The Environment Agency is once again looking for volunteers to help keep boating on the Thames running smoothly.
Working as part of a team led by professional lock and weir keepers, volunteers will have the opportunity to spend their days outdoors, helping boats through locks and gaining real, hands-on experience of lock keeping along the River Thames.
Andrew Graham, Thames Waterway Manager at the Environment Agency, said:
I am delighted to say that since 2011 our Volunteer Assistant Lock Keeper project has gone from strength to strength. Numbers increase, bringing new faces to the river, but what remains constant is the enthusiasm brought by our volunteers.

We want to work with members of the local community to bring their local knowledge to the lock side. For many, working alongside our permanent staff and other volunteers is a really sociable and rewarding activity.

Last year 225 volunteers attended our sites throughout the season and we have already had a good number expressing their interest in returning this year. However, we are still keen on hearing from anyone who is interested in joining us this summer.

As well as helping boats to pass through the lock, volunteers can use what they know about the Thames and its surroundings to help us to inform visitors about all it has to offer. Enthusiasm, a willingness to learn and a helpful nature are the main attributes we are looking for in our volunteers.
Training will be provided for all successful candidates, as well as a selection of branded uniform. The Environment Agency will also provide the best opportunities for volunteers to increase their knowledge of the River Thames while building on their passion for the river.
Lock volunteers need to be relatively fit as the role involves lots of physical activity especially walking up and down the lock side. A keen interest in river life is also a must and candidates need to be able to offer at least one day per week between May and October.
The River Thames is a destination for boating enthusiasts throughout the year, but during the summer it becomes the focus of activity for boaters, walkers, festivals and events especially at weekends. Why not become part of this by becoming a Thames Volunteer?
For more information or an application pack please email thames.volunteers@environment-agency.gov.uk or call 01491 828360.
Published 5 February 2015