Bear Grylls puts Navy reservists through their paces
Personnel at North East England's naval reserve unit HMS Calliope have been paid a visit by honorary Lieutenant Commander in the Royal Naval Reserve Bear Grylls.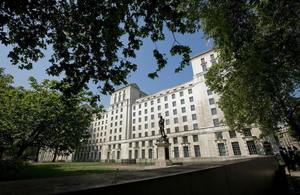 As his honorary commissioned position allows him a 'home away from home' in any Royal Naval Reserve unit around the country, the explorer and adventurer dropped into the Gateshead-based unit to take part in a rigorous exercise routine.
Along with a number of other reservists from Royal Marines Reserve Tyne and HMS Calliope, Lt Cdr Grylls was put through a warm-up routine by Able Rate Elle Forrest, whose civilian job is as a project consultant for a software company.
Able Rate Forrest has been a reservist at HMS Calliope since 2006 and has just completed her expedition leader course. She enjoyed the challenge of coming up with an energetic routine for such an active person.
She said:
It's quite daunting to devise a bit of a workout for someone who's famous for being super-fit - but I think I managed to do OK. I certainly had a great time and learnt a lot from Bear too.
Lt Cdr Grylls then took the assembled reservists outside to Calliope's parade ground and led a vigorous workout where the sailors and marines were happy to flex their muscles and really sweat it out.
The day before his visit to HMS Calliope, Lt Cdr Grylls literally dropped into the base via a daring zip slide from the top of the Tyne Bridge as part of the Olympic Torch Relay.
Commanding Officer of HMS Calliope, Commander Andrew Collier, said:
We were thoroughly delighted to welcome Lieutenant Commander Grylls to HMS Calliope. He is an honorary reservist and we were pleased to be able to offer him some hospitality in the North East.

In particular, we all enjoyed hearing about some of his adventures and in return we hope that he has gone away knowing a lot more about HMS Calliope and the Maritime Reserve as a whole.
Lt Cdr Grylls explained how proud he is to become an honorary Royal Naval reservist:
It has been a huge honour to become part of the Royal Naval Reserve," he said. "I was excited to be invited to visit the reservists at HMS Calliope; I had a really tight schedule, but it was really important to me.
"Having served in the Army and Special Forces, I remain a fiercely proud supporter of the dedication and commitment shown by all of the Armed Forces - full-time and reserve.
"I thoroughly enjoyed AB Forrest's warm-up for my early morning fitness workout and I in turn was able to add a BG element to it! It was great fun and I was made to feel like just another member of the unit - which is just the way I like it."
Royal Naval reservists are paid volunteers of whom many are in full-time civilian employment, yet they are dedicated enough to train and work alongside their full-time regular Royal Navy counterparts.
Royal Naval reservists have seen action in many recent conflicts including Iraq, Afghanistan and Libya, and have served on anti-piracy operations in the Caribbean and Indian Ocean.
Published 21 June 2012