World news story
Be Yourself: Pledge for Progress launches nationwide
Top British and Chinese companies come together to sign up in support of gender equality at the Be Yourself: Pledge for Progress campaign launch.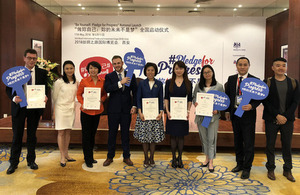 On 11 May 2018, the UK Government's Be Yourself: Pledge for Progress campaign was launched nationwide in China. Be Yourself: Pledge for Progress, led by the UK Government in China in partnership with China's Mulan Club and the British Chamber of Commerce in China, aims to inspire practical action on furthering gender equality in the workplace.
Inspired by the recent reports of gender biased practices from every corner of the world, Pledge for Progress invites businesses to publically pledge to foster gender equal practices within their own organisations and encourage others to do the same. At the launch event, representatives from four leading businesses, including Ctrip, TOREAD, Deloitte and Lloyd's China made the first ever pledges in support of the campaign.
It has been acknowledged globally that gender disparity still prevails in the business world. 49.6% of the world's population is female, but in 2017, they fill only 22% of senior managerial roles. But many studies show that gender equality brings real benefits to business in terms of faster growth and greater diversity, ultimately with economic gains for all.
The first Pledges at the event tackled these issues head on covering a wide range of issues, including ensuring equal pay for equal work between women and men; increasing investment in leadership training programmes for female employees; and bringing more companies on board to Pledge for Progress.
Pledge for Progress was launched at one of the biggest trade and investment events of the year in China, The 3rd Silk Road International Trade and Investment Expo held this year in Xi'an, where the UK is a country of honour. The event brought together women and men from both UK and Chinese businesses to discuss practical solutions to how to ensure gender equality within an organisation.
The event was hosted by the UK's Minister for Trade and Export Promotion, Baroness Rona Fairhead and Her Majesty's Ambassador to China, Dame Barbara Woodward. The launch of Pledge for Progress follows the signing of a Memorandum of Understanding between the UK's Government Equalities Office and the All China Women's Federation in December 2017 to increase collaboration and exchange between the UK and China on the topic of gender equality.
Ambassador Woodward said at the event:
I am pleased to be launching our new initiative: "Be Yourself: Pledge for Progress", bringing together British and Chinese business representatives in China to pledge their support to undertake practical and effective women's empowerment initiatives in their organisations.

We want to create a platform for all enterprises in China to share best practice and positively influence working practices.
President of China Entrepreneur Magazine, Board Chair of Mulan Club, Ms. He Zhenhong said:
We want to change the perception of Be Yourself from individual battle to a group of people gathering together and going towards a bright future and therefore giving rise to a social transform. Mulan Club will secure at least 50 Chinese companies to join the Pledge for Progress initiative.

Mulan Club will use the power of business to promote women's development and empowerment, to help more women to be themselves.
Additional launch events for the Be Yourself: Pledge for Progress campaign will be held in cities across China from May 2018 onwards. For more information on the campaign follow the hashtag #妳的未来不是梦# on Weibo.
Published 11 May 2018