BBC World Service funding review
The Foreign Secretary has updated Parliament today on the funding for the BBC World Service.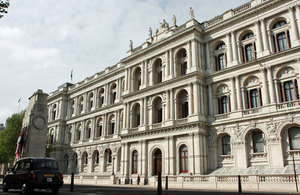 The Foreign Secretary has today released a Written Ministerial Statement on the funding for the BBC World Service, following a debate in the House of Commons on 19 May and recent developments in the Middle East and North Africa.
The Written Ministerial Statement makes clear that the original funding settlement for the BBC was proportionate and fair, with all parts of government having to find difficult savings to address the fiscal legacy of the last government. Following events in the Middle East and North Africa earlier this year and our strong support for more political and economic openness across the region, the FCO has looked again at options to support the BBC Arabic Service in continuing its valuable work. To this end, the WMS announces that the FCO will provide additional funding of £2.2m per annum to enable the World Service to maintain the current level of investment in the BBC Arabic Service. This will increase the World Service's funding as a proportion of the FCO's budget to just over 14.5%.
The FCO is also discussing the provision of funding from the Arab Partnership Initiative for specific projects proposed by the BBC Arabic Service or World Service Trust that could support the development of the media and wider civic society in the Middle East and North Africa region. Taken together, such projects could mean an additional investment of up to £1.65m over the next two years.
The FCO's funding towards the BBC World Service has been complemented by significant funds from the BBC itself, including a £20m contribution towards the cost of restructuring. Changes in the World Service contribution to the overall BBC pension deficit and lower than expected restructuring costs will also release an extra £9m over three years for investment in services. This additional funding should help safeguard the continuation of the Hindi shortwave service.
The Foreign Secretary and the Chairman of the BBC Trust will continue to work together to ensure that the World Service retains its global influence and reach in a rapidly changing world.
Published 22 June 2011