Battle Back tennis initiative launched at RAF Halton
The Ministry of Defence's 'Battle Back' programme for injured servicemen and women has teamed up with the Lawn Tennis Association (LTA) to develop opportunities in the sport for injured personnel.
On Saturday, Her Royal Highness The Duchess of Gloucester met injured servicemen and women and their families at RAF Halton Tennis Centre, Buckinghamshire, during the launch of the initiative by the Tennis Foundation, the official charity of the LTA.
Her Royal Highness, who is Honorary President of the LTA, was entertained by wheelchair athletes demonstrating the standard of play at the elite end of the sport.
Around 30 servicemen and women undergoing treatment, and their families, were given an opportunity to try out tennis at the launch. It is hoped that the initiative will not only act as an aid to their recovery but will hopefully encourage them into a longer term involvement in the sport.
The Tennis Foundation is looking to build relations with rehabilitation centres for injured servicemen around the country, and Halton Tennis Club is establishing a tennis programme with links to the Armed Forces Rehabilitation Centre at Halton, as well as the Stoke Mandeville spinal unit nearby.
RAF Halton's programme will be led by Alex Barnes, who has been coach at Halton Tennis Club for three years, and who was recently one of the pioneer coaches who attended the Tennis Foundation's pilot of the newly-developed wheelchair tennis coaching module at the National Tennis Centre in Roehampton, London.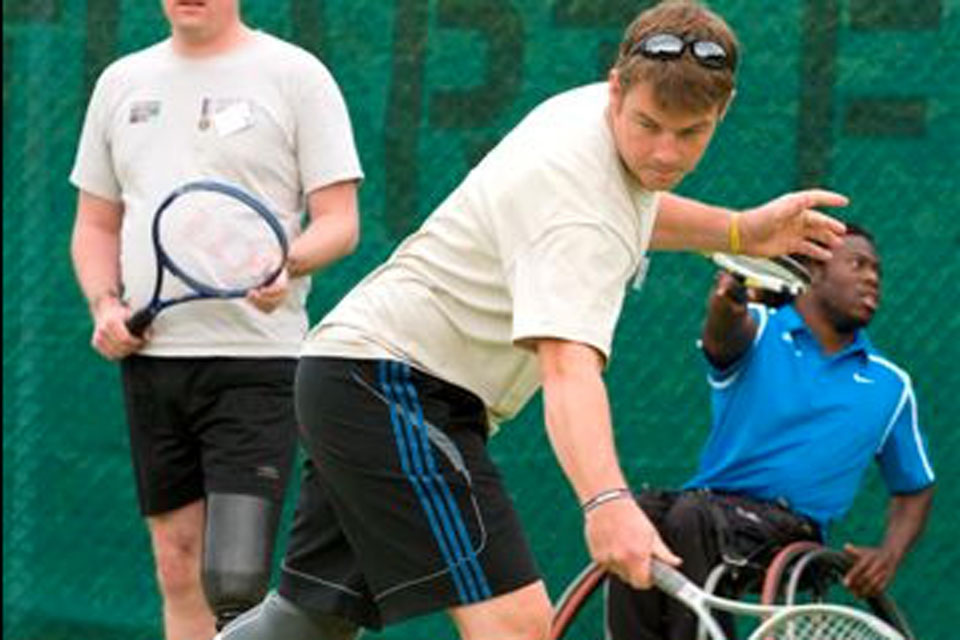 Alex is hoping to encourage locally-based servicemen and women who attended the launch of the Tennis Foundation Battle Back partnership to continue to play at the club and intends to join the Tennis Foundation on their coaching visits to the spinal unit at Stoke Mandeville Hospital as part of the club's efforts to attract people with disabilities into the proposed tennis programme.
Claire Lavers, Director of Disability Tennis for the Tennis Foundation, said:
Tennis is a fully inclusive and fun sport that can be enjoyed by all the family and the only difference between wheelchair tennis and the sport that the likes of Andy Murray and Rafael Nadal play is that wheelchair players are allowed two bounces of the ball.
This means that the sport can be enjoyed in a variety of environments as long as you have a racket, a ball and a partner.
It is the Tennis Foundation's belief that tennis is a sport that should be accessible to all and we are very excited to be able to share that belief as part of the new partnership with 'Battle Back'.
Nick Leighton, a Halton Tennis Centre Trustee, added:
Halton Tennis Club is delighted to become involved in supporting disability tennis. We have the people, facilities and passion to take on this new challenge.
Our members have been particularly supportive of the Battle Back day and are delighted that the club has become involved.
Published 28 July 2010