World news story
Baton Relay comes to the Falkland Islands
Falkland Islanders gear up for Glasgow 2014 Commonwealth Games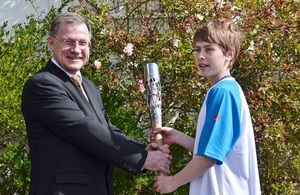 The Queen's Baton Relay has reached the Falkland Islands.
The curtain raiser to the Commonwealth Games which will begin in Glasgow in July, the relay was embraced wholeheartedly by the Falklands community.
The baton arrived in the Islands aboard the MoD airbridge from Ascension Island on Thursday afternoon and, after being shown to military personnel and their families on Mount Pleasant base, was flown to the capital by a British International helicopter which landed on HMS Clyde in Stanley harbour.
The Falklands leg of the relay then began in earnest the following day with the baton being moved throughout Stanley and other parts of East Falkland by a variety of means, including runners, horses and in a fire engine.
Acting Governor John Duncan was delighted to receive the baton from Stanley school children at Government House and later hosted a reception for the relay team and Falklands sportsmen and women.
Published 28 February 2014