Press release
Bathing water sampling underway on Lincolnshire coast
The Environment Agency has begun its annual testing regime to make sure bathing water on the Lincolnshire coast meets strict water quality standards.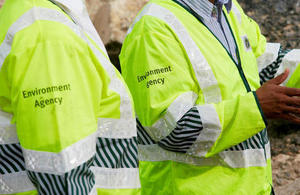 Over the next 5 months water samples will be taken from Cleethorpes, Skegness, Mablethorpe, Sutton-on-Sea, Huttoft, Anderby, Chapel St Leonards, Ingoldmells and Humberston.
Adrian Lack, Sampling and Collection Team Leader, said:
We will be taking samples from all nine bathing beaches in Lincolnshire and North East Lincolnshire to check that they continue to meet bacteriological water quality standards.

Our water sampling is vital to make sure visitors to Lincolnshire's beaches know that they are suitable for swimming. We test for bacteria that are usually associated with upset stomachs and which can come from waste water or from poorly-treated sewage or animal faeces.
Each year, the Environment Agency takes 20 samples from every EU-designated bathing water site in England between 5 May and 30 September. Testing in Lincolnshire started on Friday (9 May).
As well as water samples, other information about the beach is also recorded including the presence of sewage-derived litter and foaming and information about how the beach is used.
The results of the testing help to determine whether a beach meets the requirements of the international Blue Flag award scheme. The scheme, which is run by the Keep Britain Tidy Group in the UK, is only open to beaches that meet the strictest water quality standards and is a guarantee to tourists that a beach is one of the best in the world. Cleethorpes, Skegness, Mablethorpe and Sutton-on-Sea currently hold Blue Flag status.
To gain a Blue Flag, however, beaches must meet a set of other criteria in addition to water quality. It is up to the managers of the beach to decide whether or not to meet the additional requirements.
Adrian said:
Farmers, businesses, local authorities and water companies all have a role to play in continuing to improve water quality. As well as our annual testing regime, the Environment Agency is also working with them to tackle pollution from animal waste, roads, homes and businesses which can enter streams, rivers and, ultimately, bathing waters.
Published 12 May 2014