Press release
Bathing water results for England unveiled
The vast majority of England's bathing waters continue to meet tough quality standards, new figures from Defra reveal.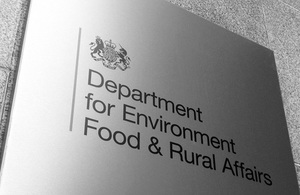 97.6% of England's bathing waters met the European Commission's minimum water quality threshold in 2010, tests carried out by the Environment Agency show. 72.6% met the tightest guideline standard.
413 coastal and freshwater bathing water sites were monitored in England in 2010. Results show that improvements have been maintained over the past decade:
2000 (404 bathing waters) 2009 (414 bathing waters) 2010
Number Per cent Number Per cent Number Per cent
Meeting mandatory standards 382 94.3% 407 98.3% 403 97.6%
Meeting EC Guideline standards 216 53.3% 332 80.2% 354 85.7%
Meeting UK Guideline standards 180 44.4% 289 69.8% 300 72.6%
The Environment Agency investigates the causes of failure at each bathing water site that falls below mandatory standards and takes appropriate measures to address sources of pollution.
Measures taken to reduce and mitigate pollution from agricultural sources include the England Catchment Sensitive Farming Delivery Initiative and the establishment of Nitrate Vulnerable Zones, which cover approximately 62% of England. The Government is also planning to increase the uptake of sustainable drainage systems and to target diffuse pollution, including measures to correct sewer misconnections. During the past two decades the water industry has invested £2 billion to improve bathing water quality and further spending of £220 million is planned over the next five years.
Notes
The water quality results for identified coastal and inland bathing waters in England, and a summary of the UK compliance figures, can be found in the 2010 results tables.  A report with more detailed results for the UK will be available on the bathing water web page by the end of December 2010.
Bathing water standards are set by the Bathing Water Directive (76/160/EEC).  Detailed information about the Directive and about bathing water quality in England is available.
Standards set by the Bathing Water Directive:
Bathing water quality results in the UK are assessed on the basis of compliance with standards in Directive 76/160/EEC. The two main standards used to assess the quality of bathing water are total coliforms and faecal coliforms, which are bacteria found in the guts of humans and other warm-blooded animals, and are indicators of contamination from sewage and other sources.
The Directive sets minimum 'mandatory' values to be achieved by 95% of samples (normally 19 out of 20 samples) taken during the bathing season. The number of samples failing to meet the Directive's standards for total and faecal coliform bacteria is shown for each failed bathing water in the results table.
The tightest 'guideline' water quality standard used in the UK is based on compliance with tighter values for total and faecal coliforms to be achieved by 80% of samples during the season and for compliance with a standard for a maximum level of faecal streptococci. This standard sets the water quality criterion of the Blue Flag award and beaches that meet the standard are described as 'guideline' (indicated by 'G') in the results table. Blue Flag is an independent award administered in England by Keep Britain Tidy.
The European Commission's guideline standard sets tighter values for total and faecal coliforms to be achieved by 80% of samples during the bathing season.  This is used for reporting guideline compliance in the Commission's report on bathing waters in all Member States, published in May or June each year.
A minimum of 20 water quality samples are taken for each bathing water site. Testing begins two weeks before the start of the bathing season, which runs from 15 May to 30 September.
The ten bathing waters that failed to meet the minimum 'mandatory' standards in 2010 are: Saltburn and Staithes in the North East Region: Lyme Regis Church Beach, Mothecombe, Seaton (Cornwall), Seaton (Devon) and Instow in the South West; Heysham Half Moon Bay, St Annes and Walney Sandy Gap in the North West.
Two bathing waters in England could not be sampled in 2010 because they were inaccessible to samplers and to the public. Blackpool North in North West region has been closed for engineering works to the sea defences. At Newhaven in Southern region, access to the privately owned bathing water has remained closed. These sites are not included in the 2010 compliance assessment.
Two new bathing waters have been designated in 2010: Minster Leas in Southern region and East Runton in Anglian region.
Four beaches were removed from the list of designated bathing waters in 2010. At Aldingham, Bardsea and Newbiggin in the North West region, bathing is discouraged because of the dangerous nature of the coastline. Barmston in the North East region has very low usage for bathing because access has become difficult as a result of rapid coastal erosion causing the steps that previously led to the beach to collapse.
The names of four bathing waters in England were amended in 2010 to clarify their geographical location:
New name from 2010 Previous name
Lancing, Beach Green South Lancing
West Beach, Whitstable West Beach
Seaham Hall Beach Seaham Hall Beach (Remand Home)
Mounts Bay Marazion Mounts Bay Little Holgus
Combined Sewer Overflows (CSOs) may affect bathing water quality after heavy rainfall. CSOs are a safeguard to prevent sewage from backing up and overflowing during periods of heavy rain. Defra held the first annual Cleaner Seas Forum meeting in October to help drive improvements to coastal water quality and consider how the public can be alerted to CSO discharges. The Forum is chaired by Richard Benyon, the Minister for Natural Environment and Fisheries, and the water industry, environmental NGOs, tourism and other stakeholders with an interest in water quality and public health were represented.
More information on measures the Government is taking to improve bathing water include can be found at:
Bathing water results for Scotland, Wales and Northern Ireland are published by the Scottish Government, the Welsh Assembly Government and the Department of Environment Northern Ireland respectively. The results for Scotland were published on 16 September. The results for Northern Ireland were published on 3 November and for Wales on 15 November. Results are also available on the websites of the Environment Agency (for England and Wales), Scottish Environment Protection Agency and the Northern Ireland Environment Agency. Any questions relating to bathing water compliance should be directed to the relevant organisation.
The European Commission will publish the 2010 bathing water results for all EU Member States on its website in May/June 2011.
Published 15 November 2010