News story
Baroness Wilcox announces Cracking Ideas' winners
The three youngsters were named as the top entrants from the 9,000 that entered the competition, which is part of the Intellectual Property …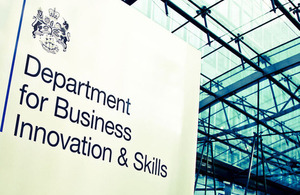 The three youngsters were named as the top entrants from the 9,000 that entered the competition, which is part of the Intellectual Property Office's Wallace & Gromit's World of Cracking Ideas campaign.
The UK winners, who were picked by Wallace & Gromit creator Nick Park, are:
Aurora Carter, of Welshpool, Powys, Wales, for the 4 to 7 age group

Finn Collinson, of Halstead, Essex, England, for the 8 to 11 age group

Elliot Cooke, of Southampton, England, for the 12 to 16 age group
The trio were selected from 11 regional winners who received their prizes during the awards ceremony at LEGOLAND. They each won a lap-top and a book signed by Nick Park.
The UK winners were presented with bespoke trophies designed by Aardman, who have worked with the Intellectual Property Office for several years on this project.
The competition required entrants to identify Wallace & Gromit's next business venture and to highlight the four types of intellectual property created - an invention or gadget, the design of the product, a name or logo to trade mark and a copyrighted advertising campaign.
Intellectual Property Minister Baroness Wilcox said:
"Congratulations to Aurora, Finn, Elliot and all the other winners being recognised today. It's wonderful to see children being so imaginative. Ideas, at any age, are precious and imaginative thinking should be encouraged.
"Today's winners have been selected from almost 9,000 entrants, and each of them will have learnt invaluable skills which they can apply later on in life.
"This competition is very encouraging for the future, not just for these children, but also this country's success and growth."
Nick Park, creator of Wallace & Gromit, said:
"It's great to see that Wallace & Gromit continue to inspire budding inventors of all ages, and these Cracking Ideas competition winners have come up with ideas that would make Wallace proud!"
The Cracking Ideas competition is now in its third year and this was the most popular yet with almost 9,000 youngsters entering.
Wallace & Gromit's World of Cracking Ideas campaign aims to encourage young people's interest in innovation and creativity while educating them about intellectual property.
Notes to editors
• Cracking Ideas is a Government-backed project and uses a combination of lesson plans, activity packs, challenges and dedicated website, www.crackingideas.com, to encourage innovation and creativity amongst children aged 4 - 16 all with links to the UK curriculum.
• The IPO is within the Department for Business, Innovation and Skills and responsible for the national framework of intellectual property rights, comprising patents, designs, trade marks and copyright.
• Its role is to help manage an IP system that encourages innovation and creativity, balances the needs of consumers and users, promotes strong and competitive markets and is the foundation of the knowledge based economy.
• It operates in a national and an international environment and its work is governed by national and international law, including various international treaties relating to IP to which the United Kingdom is a party.
• Aardman, which is based in Bristol, was co-founded and run by Peter Lord and David Sproxton. It is a world leader in animation and it produces feature films, television series and television commercials for the domestic and international market.
• Any media interested in attending the awards ceremony or contacting the winners should contact IPO press officer Paul Conroy on 0207 215 5303.
BIS' online newsroom contains the latest press notices, speeches, as well as video and images for download. It also features an up to date list of BIS press office contacts. See [http://www.bis.gov.uk/newsroom](http://www.bis.gov.uk/newsroom) for more information.
Notes to Editors
Contact Information
Name BIS Press Office Job Title
Division COI Phone
Fax
Mobile
Email NDS.BIS@coi.gsi.gov.uk
Published 7 July 2010