News story
Baroness Warsi's opening remarks at the Global Summit
Remarks from Baroness Warsi at the opening plenary of the Global Summit.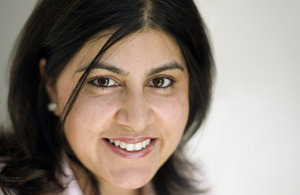 Ladies and gentlemen good morning.
On behalf of the Foreign and Commonwealth Office and the United Kingdom Government I am delighted to formally welcome you to London and to the Global Summit. We are delighted that over 115 countries are represented here today, alongside UN Agencies, international organisations, experts, civil society representatives from across the world.
Nearly 2000 delegates will participate in this Summit and I particularly want to welcome those who have travelled from so far. Delegates from across the world from governments to civil society – many who are working at the grass-roots level in current conflict or post conflict countries and whose voices on these issues are central to our discussions. Why? Because simply this Summit is about practical outcomes.
Sexual Violence in Conflict is not a new issue but unfortunately its prevalence continues unabated in many parts of the world. Our hope is that this Summit can act as a catalyst to build on the efforts of those who are already working tirelessly to address this issue.
And we hope in the ambitious programme of experts and ministerial meetings that we have created you will find the opportunity to contribute your expertise and perspectives, to listen, to learn and to share best practice and the recommendations that hopefully emerge from that will be the concrete, practical, forward looking steps that are so badly needed.
I would like to start, ladies and gentlemen by introducing my distinguished Panel for this opening session. I'm pleased to welcome Zainab Hawa Bangura who is Under-Secretary General and Special Representative of the Secretary General on Sexual Violence in Conflict. The Special Representative has been a key partner for the UK in the context of their work on this issue and the passion and determination with which she pursues her mandate has made her a key and invaluable actor for change. For me, she's inspirational.
After Zainab we will hear from Emma, the Head of the Preventing Sexual Violence Initiative at the UK Foreign and Commonwealth Office who will set out in more detail the objectives and format for the Summit.
And I am delighted that we will also hear from four experts who will address and frame for participants the main areas of thematic focus.
Maxine, Marcus – Senior International criminal lawyer and gender expert and former prosecutor at the International Court of the Former Yugoslavia

Phumzile, Mlambo-Ngcuka – Executive Director of UN Women and a leading advocate for increased women's participation.

Charlotte Isaksson – Special Advisor on Gender Issues at the Allied Command Operations, NATO

Carmen, Moreno xecutive Secretary of the Interamerican Commission for Women of the Organization of the American States
And I am pleased that we will also be hearing from Kolbassia who will speak on behalf of the Survivors Speak OUT! Network on the importance of including survivors' perspectives in designing policy responses to sexual violence in conflict.
Let me end, ladies and gentlemen, on a very, very personal note. Before I became a politician, I was a lawyer. I spent many years both prosecuting and defending. But for me one of the most harrowing moments was listening to the stories of young women as they came out of Bosnia Herzegovina during the Balkans conflict and having to deal with their asylum applications as they came into the United Kingdom.
And what was so poignant for me was that having spent sometimes many, many hours with these women, in preparing for their cases, we would find out only at the eleventh hour, the most horrific aspect of their experience – the rape and the sexual violence. And what was even more heart-breaking for me was when those women wouldn't just tell you that at the last moment but it would also be with the caveat that I don't want you to tell anyone else this, I don't want it to be part of my case.
And to be a lawyer who sometimes had to fight a case with one hand tied behind her back, that feeling of helplessness makes me realise why today this Summit is so important so that in our own ways, in the small practical steps that we can take, we can make sure that every survivor has their story heard, every survivor gets justice, no lawyer has to fight with one hand tied behind her or his back and that we clearly say that the shame of this crime sits with the perpetrator, not with the survivor and I think the one thing that encompasses all of that, ladies and gentlemen, is that it's time to act, by being here with all saying that.
Thank you to Zainab, Emma, Maxine, Phumzile, Charlotte, Carmen and Kolbassia for opening the experts discussions today. As I said in my opening remarks I hope that today will be the start of fruitful discussions and a sharing of experience and expertise that will build a new coalition of states and organisations who together have the determination, expertise and ambition to seek out sexual violence in conflict wherever it occurs and decisively sweep it away.
As well as the experts' meeting you are participating in today I hope also that you will take the opportunity to visit the "Fringe" of events that are taking place alongside the formal meetings. These will be an opportunity to look at this issue though a broader lense. Through panel discussions, performance, exhibitions, theatre and film.
I am chairing an event with the We Will Speak out Coalition on the role of faith leaders and faith based organisations in ending sexual violence later today that I welcome your attendance at.
After the Summit we will publish a comprehensive report which reflects the wide range of activities, discussions and outcomes from the Summit as well as a Chair's Summary on Friday at the closing plenary.
However, we hope that whilst at the Summit you will also join with us in endorsing a "Statement of Action" – which aims to capture "the moment" of the Summit and to reflect the coming together of governments, NGOs, the UN and other international organisations, the faith community, parliamentarians, the judiciary and the military in recognition of the need to act urgently to end sexual violence in conflict and of working together to do so.
Baroness Warsi's opening remarks at Global Summit.
Follow the Summit live
There are several ways you can keep up-to-date with developments at the summit:
Published 11 June 2014