World news story
Baroness Warsi visits Kuwait
Baroness Warsi visits Kuwait on 16 September to hold talks with Kuwaiti officials on bilateral relations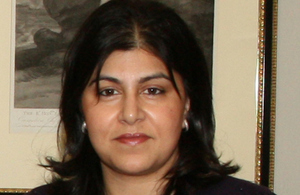 Baroness Warsi, Senior FCO Minister of State and Minister for Faith and Communities is visiting Kuwait on 16 September, almost 3 years after her visit here in 2010. Baroness Warsi will hold official talks with Kuwaiti officials on bilateral relations, key international issues of joint interest, and freedom of religion and human rights. The Baroness will also meet with a number of Kuwaiti women to discuss women empowerment, women's rights and women in business.
The Minister's agenda will be focusing mainly on Islamic finance and economy issues especially the upcoming 9th World Islamic Economic Forum (WIEF) that will take place in London on 29 - 31 October 2013, and Kuwait is a key participant. The UK is a major global provider of the specialist financial and professional services required for Islamic Finance making it the preferred choice for the Muslim world to invest in and do business with.
Also, the UK will host an Investment Conference on 16 September in London and Deauville Partner countries [including Kuwait] have been invited. Baroness Warsi said she was pleased by the support of Gulf partners for the G8 conference on women's economic participation that was held in London in June as part of the UK's Deauville Partnership work.
The Baroness is delighted to be in Kuwait once again and hopes to build up on her previous visit's successful outcomes.
Published 16 September 2013