World news story
Baroness Warsi meets Bangladesh political leaders in Dhaka
Baroness Warsi visits Bangladesh to discuss the challenges facing Bangladesh in the run up to the elections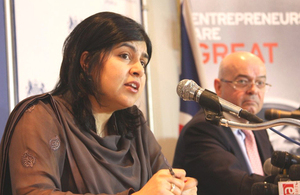 UK Senior Foreign Office Minister Baroness Warsi made her second visit this year to Bangladesh. The visit comes ahead of Bangladesh elections planned for January 2014, which have been preceded by increasing levels of violence. During her visit she called on Prime Minister Sheikh Hasina at her office and opposition leader Khaleda Zia at her residence, Election Commissioner and Foreign Minister in Dhaka to discuss bilateral issues and recent developments.
Following the meetings Baroness Warsi said, "It is welcome news for everyone that dialogue between the Awami League and BNP are taking place. In all my meetings today I stressed the importance of free, fair and transparent elections next year, an election free from intimidation and violence." She stressed that recent violence was damaging not only to Bangladesh's reputation but also its economy and livelihoods of its people.
The minister also met with Foreign Minister Mahmud Ali to discuss bilateral and international issues, as well as concerns raised by many in the international community at the imminent execution of Abdul Quader Mollah. She said the "UK and the EU opposes the use of the death penalty in all circumstances in all countries".
Notes to editors
The UK government has expressed concerns at recent violence and arrests of senior politicians and party officials in a fellow Commonwealth country, with the subject raised in the Houses of Parliament and closely followed by the 500,000 people of Bangladeshi origin living in the UK.

Baroness Warsi last visited Bangladesh 18-20 February 2013, when she also called on the Prime Minister and leader of the opposition.

The Right Honourable Baroness Warsi PC was appointed the UK's Senior Minister of State at the Foreign and Commonwealth Office on 4 September 2012. Her foreign policy responsibilities cover Bangladesh, Afghanistan, Pakistan, Central Asia, human rights, the International Criminal Court, the UN and other international organisations.

Baroness Warsi became a Member of the House of Lords in 2007. In 2010, she became a member of the Privy Council and the first Muslim to serve in a UK Cabinet.
Published 12 December 2013
Last updated 12 December 2013
+ show all updates
Added a picture and updated text
First published.