World news story
Baroness Verma's visit to India 1- 7 September
Baroness Verma to call for climate action, green growth & leading role for women during India visit.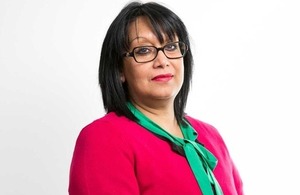 The British Parliamentary Under Secretary of State for Energy & Climate Change, Baroness Verma will visit Punjab, UP, New Delhi and Hyderabad from 1- 7 September.
Her first official visit to India aims to focus on the pressing need to tackle climate change and busting the myth that clean energy is not compatible with growth. The minister will look at the role of women in the energy sector and sustainable business.
The visit will also seek to deepen existing collaboration on infrastructure, traditional and renewable energy, energy efficiency and low carbon technologies.
The minister will meet key Indian ministers at national & state level and will also engage with the NRI & business communities here.
Baroness Verma said:
The UK sees green growth as the foundation of any successful globally-competitive economy.

Growing a green, low carbon economy in India is good for India and good for the UK. Both our governments and business communities have a lot of expertise, technology and experience that we can share to our mutual economic benefit.

In working together, we can enhance energy security and accelerate growth in both countries, as well as help tackle the dangerous effects of climate change.
In Chandigarh, Baroness Verma will launch a climate change toolkit for legislators to raise awareness of climate change impacts in their area and support them in their efforts to tackle climate change. She will have an opportunity to review progress on UK India research collaboration in renewable energy sector when she visits an IIT Ropar project jointly developed with Aston University, UK.
In Jagdishpur, the minister will meet the CEO of TERI (The Energy and Resources Institute) and IPCC Chairman, Dr Rajendra Pachauri, who will accompany her on a field visit to see clean cookstoves & solar lantern technology in action.
In New Delhi, Baroness Verma will launch an energy efficiency manual for the PAT (Perform, Achieve & Trade) Scheme for Indian industry and will meet industry members to discuss collaboration with the UK in the power sector. She will also discuss with ministers the international climate change agenda in the run up to the UNFCCC meeting in Warsaw later this year. In Hyderabad, she will interact with students and visit the CII Green Business Centre.
Further Information:
For media queries:
Marcus Winsley, Director,
Press and Communications
British High Commission,
Chanakyapuri, New Delhi 110021
Tel: 44192100; Fax: 24192411

Mail to: chandeep.kaur@fco.gov.uk
Follow us on twitter, Facebook, Flickr, YouTube, LinkedIn, Storify, Eventbrite, Blogs, Foursqare
Published 30 August 2013