News story
Baroness rolls out new facilities at manufacturing plant
The Minister visited Accrol Papers Ltd in Blackburn, Lancashire where she toured the new 120,000 square foot offices and warehouse facility …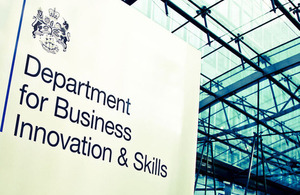 The Minister visited Accrol Papers Ltd in Blackburn, Lancashire where she toured the new 120,000 square foot offices and warehouse facility and met with workers before unveiling a plaque onsite.
Founded in 1993, Accrol Papers has grown significantly in recent years thanks to its investment programme, which has included £25 million in new plant machinery and premises, with a further £30 million expected over the next two years.
The family-run business recently secured a conditional offer from the second round of the Government's Regional Growth Fund (RGF) to bolster its expansion plans and create new jobs by partially supporting the new office space and helping to refurbish other facilities onsite.__
The Minister said:
"It's been a real pleasure to visit Accrol Papers and see the work that has been taking place to expand production services, which has turned the business from a SME to a UK leader in only a few short years.
"The RGF support will help Accrol Papers to continue on its projected plan for growth that will offer support not only for its commercial ambitions, but new job opportunities for people in the North West of England.
"Manufacturing makes a vital contribution to the growth of a more sustainable UK economy, which is why we are keeping it central to our growth strategy, and working to change perceptions of the sector to young people in particular through initiatives like our Make it in Great Britain campaign."
Accrol Papers Ltd is now the fourth largest soft tissue converter in the UK with manufacturing capacity in excess of 75,000 tonnes per year. Output includes over one million toilet rolls and 250,000 kitchen rolls each day.
Managing Director Majid Hussain, said: "We were delighted to welcome Baroness Wilcox and guests to the opening of our new premises. We have exciting plans for the future and we hope that we will soon be able to announce the construction of a further new manufacturing facility which will lead to the creation of an additional 150 jobs."
Notes to editors:
Accrol Papers Ltd
Accrol Papers Ltd manufactures a wide range of household and away-from-home paper products from its purpose built production facility in Lancashire.
Paper products including toilet rolls, kitchen towels and napkins are converted to the highest levels of quality in brands and private labels utilising the latest technological advancements.
Accrol is recognised as a key supplier of both branded and private label paper products to major retailers in the household sector and to national distributors in the away from home sector.
Regional Growth Fund
The Regional Growth Fund (RGF) is now a £2.4bn fund operating across England from 2011 to 2015. It supports projects and programmes that lever private sector investment to create economic growth and sustainable employment.
It aims particularly to help those areas and communities which were dependent on the public sector to make the transition to sustainable private sector-led growth and prosperity. For further information about the RGF, visit www.bis.gov.uk/rgf
BIS's online newsroom contains the latest press notices, speeches, as well as video and images for download. It also features an up to date list of BIS press office contacts. See [http://www.bis.gov.uk/newsroom](http://www.bis.gov.uk/newsroom) for more information.
Notes to Editors
Contact Information
Name BIS Press Office Job Title
Division COI Phone
Fax
Mobile
Email NDS.BIS@coi.gsi.gov.uk
Name Andy Aston Job Title
Division Department for Business, Innovation & Skills Phone 0207 215 6963 Fax
Mobile
Published 29 March 2012