Baroness Newlove joins the Department for Communities and Local Government to promote active, safer communities
The Government's champion for Active Safer Communities, Baroness Newlove, has joined the Department for Communities and Local Government to …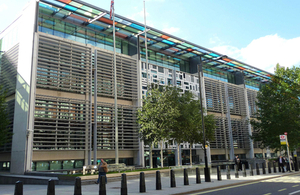 The Government's champion for Active Safer Communities, Baroness Newlove, has joined the Department for Communities and Local Government to continue her campaign for a 'people power' revolution.
The Baroness will continue her work started at the Home Office and use the natural links the Department has with community groups, local government and partners with a 'call to action'. This will include acting as a champion for grassroot activists and working with ministers to raise awareness with local people, businesses and frontline workers on what they can do to make their communities safer.
Baroness Newlove published her report last month, Our Vision for Safe and Active Communities, detailing what residents, businesses, local agencies and central government can do to begin a generational shift in the country's approach to activism and tackling neighbourhood crime. The Government will be responding to the report over the summer, however many of the recommendations, such as more power for community activists, have strong links to the Localism Bill and the push to decentralise power away from Whitehall.
Baroness Newlove will also make her Maiden speech to the House of Lords today (Wednesday 27 April 2011) about her role and vision.
Baroness Newlove said:
I am delighted my move into Communities (the home of barrier busting and cutting of useless red tape) will increase the pace of delivery of my plans for happier, safer neighbourhoods. This is the natural place for me to turn our joint vision into reality, and I am grateful for this opportunity to work across Whitehall too, as the voice for citizens.

I promised everyone who helped me with my report it would not gather dust, but it would be a roadmap for us to work towards our common goals which includes empowering local people to help find the solutions to local problems.

We have to let decision making and direction of resources be placed in the hands of those directly affected.

I look forward to meeting more community 'heroes' and developing  real, sustainable partnerships across government, agencies, charities  and more importantly 'ordinary' people, who act in extraordinary, and sometimes very brave and selfless ways to be good neighbours. And working with ministers to make it happen.
Communities Secretary Eric Pickles said:
It's great to have Baroness Newlove onboard to really drive the localism agenda at a grassroots level. She will bring invaluable insight and advice from communities that will ensure policies and new initiatives are relevant and useful for people instead of confusing Whitehall jargon. We look forward to working with her.
Baroness Newlove will advise the Government on how to take forward her recommendations and develop further policy. Her role at the Department for Communities and Local Government will involve:
continuing her support for the seven activist areas that helped inform her report and recommendations
learning from people across the country who have helped make a difference in their area, and witnessing first-hand the very best of what works and what the barriers are to successful community activism
working closely with the Ministerial Team at the Department, and help them to develop policy that meets the needs of the unsung community activists who make such a difference on the ground
continuing her blog to directly communicate with activists and the wider public, sharing on-going learning from her visits, highlighting innovation and challenges and signposting people to useful resources
reporting back to ministers detailing how Government and local agencies can empower communities.
Notes to editors
1. Baroness Newlove is a community campaigner based in Warrington and was made a peer in July 2010. Since the death of her husband Garry in 2007, she has worked to make communities safer.
2. Further details on the Our Vision for Safer and Active Communities report can be seen here: www.homeoffice.gov.uk/media-centre/press-releases/newlove-report (external link).
3. To see Baroness Newlove's blog and keep updated on progress visit: www.helennewlove.co.uk (external link).
Twitter
Keep up to date with the Department by following us on Twitter (external link).
Media enquiries
Visit our newsroom contacts page for media enquiry contact details.
Published 27 April 2011