News story
Baroness Kramer visits Waterloo to see funding plans
£300 million investment will add capacity and improve journeys on south west rail route.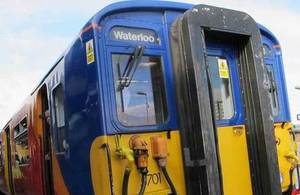 Transport Minister Baroness Kramer visited Waterloo station today (31 March 2014) to see how major government investment will benefit passengers.
During a tour of the station and control centre, the minister learned how a total of £300 million will be spent to add capacity and improve journeys along the south west rail route in and out of the station, with almost 10,000 extra peak-time passengers able to use the route by 2019.
She was also shown how platforms will be extended to accommodate longer trains, with additional carriages being introduced over the next 2 years and more planned.
The work is part of a 5-year programme unveiled by Network Rail today (31 March 2014) that will see £38 billion invested in operating and improving railways across the country.
Baroness Kramer said:
This is an exciting scheme that will transform the passenger experience at 1 of Europe's busiest stations. I was very pleased to see the plans in more detail and to go out on the tracks at Waterloo to see both the challenges for the industry and the opportunities for passengers.

Thanks to record levels of government investment in our railways, passengers will soon start to see the benefits of significant improvements. Our investment will also ensure we are creating the kind of world-class infrastructure we need to secure long-term economic growth.
Find out what else the government is doing to support and grow the UK economy.
In addition to the work at Waterloo, other work planned for the south west route includes station improvements along the route and a new train management system to increase the number of trains that can be timetabled.
There are also plans to bring Waterloo International Terminal back into full use, nearly 7 years after the last Eurostar trains running from the terminal were transferred to St Pancras. This will allow longer trains to operate at the busiest times.
Roads media enquiries
Press enquiries 020 7944 3021
Out of hours 020 7944 4292
Switchboard 0300 330 3000
Published 31 March 2014