News story
Baroness Kramer views progress at Pye Corner station
UK Transport Minister visits Wales to see how new station will transform journey.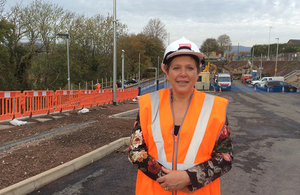 Transport Minister Baroness Kramer visited Newport in Wales today (31 October 2014) to see how a multi-million pound new rail station will transform journeys for local passengers.
The £3.5 million station at Pye Corner, which is nearing completion, will make it easier for residents to access train services – relieving congestion on the local road network and helping to boost the local economy. The station will provide connections to Cardiff and Ebbw Vale.
The work, which has been jointly funded by the UK government's New Station Fund and the Welsh Government, will also help to build an integrated transport network in south east Wales.
Baroness Kramer said:
Pye Corner is a great example of how our record investment in the railway is building a network that meets the needs of local people and provides real benefits to the economy.

More than £38 billion will be spent in the next 5 years on modernising the rail network, giving passengers across the UK better journeys.
Work started on the station in April 2014, and is due to be completed by the end of the year. When it opens, it will be served by the existing hourly Ebbw Vale to Cardiff service, with the potential for additional services and destinations to be introduced in future.
Four other stations around the UK will be built after successfully applying for funding from the New Station Fund – Ilkeston in Derbyshire, Newcourt in Devon, Lea Bridge in London and Kenilworth in Warwickshire.
Rail media enquiries
Press enquiries 020 7944 3021
Out of hours 020 7944 4292
Switchboard 0300 330 3000
Published 31 October 2014