World news story
Baroness Anelay visits Colombia and Panama
Visit by Foreign Office Minister focused on a number of areas including human rights, preventing sexual violence in conflict, climate change and trade.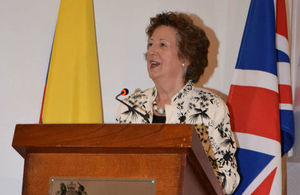 Human Rights Minister and the Prime Minister's Special Representative on Preventing Sexual Violence in Conflict (PSVI), Baroness Anelay, visited Colombia on 14-15 March followed by Panama on 16-17 March 2016.
At the start of the visit, Baroness Anelay went to Colombia's fasted growing industrial city, Barranquilla. Here she supported a delegation of UK companies promoting UK expertise in 'SMART' cities - a term referring to the use of technology to improve the efficiency of public services. The Minister also reinforced the UK's longstanding relationship with the city in the areas of offshore oil and gas development and culture.
In the city of Cartagena, Baroness Anelay visited a UK-funded PSVI project which has created a network of women survivors of sexual violence. The aim of this is to create and develop prevention strategies – especially in schools where the project was located, and to fight for justice.
The Minister heard from survivors who have been supported by the project and reiterated that the UK will continue to work with Colombia to promote access to justice, support and empower victims and promote women's participation in peace building.
Baroness Anelay said:
"I was delighted to visit Colombia to see first-hand the strength and breadth of the UK's relationship with the country.
"Colombia has long been an important partner for us on human rights and I was pleased to meet with a number of organisations and individuals who work to promote this agenda. The UK continues to fund human rights projects within the country.
"The UK is proud to support projects which empower female survivors of sexual violence and it was encouraging to see the commitment of schools in Cartagena who are addressing this issue, promoting change and challenging attitudes."
The Minister also reiterated the UK's political and financial support to the peace process, announcing a UK contribution of £4.2million to the UN Trust Fund and €1.5million to the EU Trust Fund.
A number of bi-lateral meetings were held throughout the visit with members of the Colombian Government including the Foreign Minister, the Deputy-Foreign Ministers, the Minister for Post Conflict and Interior Minister. At the end of the visit Baroness Anelay hosted a human rights reception which celebrated the work of human rights defenders in Colombia from civil society, communities and the government.
In Panama, Baroness Anelay outlined UK support for the country's continuing efforts to tackle corruption and boost transparency. The Minister met with British companies and highlighted the opportunities for UK firms to carry out business in the country.
Baroness Anelay welcomed Panama's recent election to the Human Rights Council and held a number of bi-lateral meetings including with the Minister of Trade, Vice-President of Panama, Minister of Public Works. Baroness Anelay said:
"I was pleased to visit Panama to focus on our joint priorities including human rights, transparency and prosperity and meet with the thriving UK business community."
Published 17 March 2016