Barker backs Brit business on US green trade mission
Six British firms join green economy drive Beer makers, wind turbine installers and loft laggers join Climate Change Minister Greg Barker…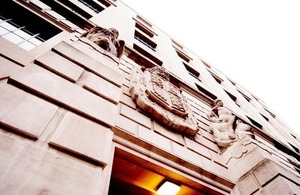 ---
Six British firms join green economy drive
Beer makers, wind turbine installers and loft laggers join Climate Change Minister Greg Barker this week for the Department's first ever green trade mission.
A total of six UK companies that are capitalising on the opportunities of the green economy will be on the five-day visit to the US, which will cover Washington DC, Philadelphia, Charlotte (North Carolina) and Columbia (South Carolina).
As part of the trade mission, Greg Barker and the business leaders will meet with politicians, business groups, investors and regional development bodies to explore the openings for UK green business in the US and the inward investment opportunities the UK's low carbon sector offers.
Greg Barker said:
"I am proud to be a cheerleader for Britain's green businesses and am in America this week flying the flag for those firms that are breaking into the US market.
"The companies joining me on this US trade mission are living proof of the economic benefits of the new green economy and can therefore help me make the case that going green is good for the economy, as well as energy security.
"I'll be telling the people I meet about the transformation of the UK economy that we are delivering through the Green Deal, our reforms of the electricity market and the creation of the green investment bank. My message will be that Britain is open for green business investment."
The trade mission has three main aims: to help UK companies break into the US market, demonstrate the opportunities presented by the green economy, and highlight the massive opportunities for investment back in the UK.
The companies taking part in the trade mission include:
Jupiter Asset Management, which amongst its range of products has created investment vehicles for those wanting to invest in environmentally sustainable companies.
Emma Howard Boyd, Head of Socially Responsible Investment and Governance, Director, Jupiter Asset Management, said:
"The UK is widely recognised as a global leader in green financial services and Jupiter has a long-standing commitment to the field of sustainable and green investment. As a truly global investment agenda, I am delighted to join the Minister and the other delegates on the Department's first green trade mission to demonstrate how the UK is capitalising on a wealth of investment opportunities."
The Mark Group, which has grown over the past four decades from a small home-insulation business to a sophisticated energy efficiency and renewables firm. In 2009 the group expanded into international markets, opening first in Australia and then in October 2010, in Philadelphia, USA.
Bill Rumble, Mark Group Commercial Director, said:
"It is a privilege to be invited to take part in DECC's first ever green trade mission. Mark Group sees itself as a pioneer of the energy saving industry both in the UK and in overseas markets. We hope, through this visit to North America, we will be able to help the UK government showcase its home grown green talent and help others develop a thriving green economy."
The RES Group, which started in the UK more than 25 years ago, is now one of the world's leading developers and constructors of renewable energy projects: on-shore wind, off-shore wind, biomass and large-scale solar farms.
Ian Mays, CEO of RES Group, said:
"RES has established a firm footing in the US, having built around 15% of the country's current wind energy capacity. We know it's a market that will see huge growth in clean, secure and renewable energy like wind and solar power and we are pleased to be joining the Minister on this mission to showcase our expertise."
Adnams Southwold's sustainability initiatives are differentiating the company in the market and its "zero-carbon" beer (East Green) is increasing the company's appeal to younger, eco-concious consumers. It is also sending its brewery waste to an anaerobic digester that creates gas that heats the company's buildings and will soon fuel its delivery trucks. The gas that is not used by Adnams is sold back into the grid.
Andy Wood, Chief Executive of Adnams, said:
"Adnams has been investing in green technology for a number of years now, knowing that it not only makes sense for the environment, but also for the long-term sustainability of our business. I am delighted to join the Minister on the Department's first green trade mission and look forward to learning more about the US market and to be part of a showcase of UK companies investing in environmental initiatives."
Intelligent Energy is a global clean power systems company, with a range of leading fuel cell and hydrogen generation technologies. Current partners include Scottish & Southern Energy and Suzuki, with whom Intelligent Energy built the Burgman Fuel Cell Scooter, a recent recipient of European Whole Vehicle Type Approval - a first for any fuel cell vehicle. Intelligent Energy also developed the world's first hydrogen fuel cell motorbike and supplied the fuel cell system to Boeing which powered the world's first manned fuel cell aircraft.
Dennis Hayter, VP of Business Development at Intelligent Energy, said:
"There is terrific potential to unlock the UK's green sector and missions such as these are crucial if we are to accelerate export growth. Intelligent Energy welcomes the chance to support the Minister in showcasing Britain's clean technology in the United States, and looks forward to discussing new market opportunities that will encourage business investment."
Willis Group Holdings plc (NYSE: WSH) is a leading global risk management advisory firm and insurance broker with expertise in helping clients prepare for and manage extreme events and climate-related risks. Willis is one of the world's leading advisors on clean and renewable energy technology and supports the world's largest collaboration between public science, business and the insurance industry through the Willis Research Network. Willis is headquartered in Britain with more than 400 offices in nearly 120 countries, and approximately 17,000 employees.
Rowan Douglas, CEO of Willis Analytics and Chairman of the Willis Research Network, said:
"We congratulate Greg Barker on his efforts to further align British and American business interest in finding new and innovative solutions to climate change. As a company with strong roots in both the UK and US, and growing emphasis on low carbon products and solutions, Willis is delighted to be part of this important delegation."
Published 28 March 2011