News story
Bar raised so town hall pensions can invest more in local infrastructure
Changes to the Local Government Pension Scheme in England and Wales.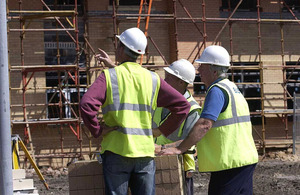 Local Government Minister Brandon Lewis announced a change to the law to permit councils to invest twice as much of their pension assets in building more homes, energy schemes and high speed rail.
Investment in infrastructure is a vital part of the government's economic growth strategy. The Local Government Pension Scheme England and Wales is administered by 89 separate local funds that hold combined investment assets worth £150 billion.
Following a consultation it was decided that the current limit of 15% was an unnecessary obstacle for authorities seeking to invest in infrastructure. The rules have been changed to councils to invest through limited partnerships up to 30% of their holdings.
Pension fund rules exist to make sure investment risks are spread across different types of investments to give taxpayers long-term protection.
Brandon Lewis said:
"Unlocking town hall pension pots so they can invest more in vital infrastructure projects will help this country complete on a global scale and get Britain building.
"By lifting the restrictions controlling local pension investments councils will now have the choice to invest more in local job creating infrastructure and housing projects."
A recent report by the Future Homes Commission said council pension funds could be used to build key infrastructure projects like new homes in the UK without increasing the government deficit.
Investment decisions remain for individual local pension funds, which have a duty to protect the local council taxpayers, and local services and to ensure that there are no conflicts of interest.
Further information
The government has introduced new regulations to relax the current investment regulations to the Local Government Pension Scheme (Management and Investment of Funds) Regulations 2009. A total of 87 responses were received to the consultation.
In November 2011, the HM Treasury, the National Association of Pension Funds and the Pension Protection Fund signed a Memorandum of Understanding. All parties agreed that there is the potential for mutual benefit for the government and pension funds to facilitate investment in infrastructure. The parties agreed to work together to help establish the arrangements necessary for efficient and appropriate investment in UK infrastructure assets. The Pension Investment Platform aims to raise funds from both public and private sector pension schemes.
Two local authority pension funds, Strathclyde Pension Fund and West Midlands Pension Fund, are among the 6 founding investors already involved in the Pension Investment Platform.
Investment decisions are decided by individual local pension funds based on long term returns, which have a duty to protect the local council taxpayer, and local services and to ensure that there are no conflicts of interest. Diversified investment portfolios reduce risk to the taxpayer. This will help to minimise the impact of managing pension costs, stabilise the level of employer contribution rates and limit local taxpayers' exposure over the medium to long term.
Published 7 March 2013