News story
Banking partnerships to benefit growing businesses
Metro Bank will support up to £100 million of lending for eligible businesses in London and the South East that are signed up to GrowthAccelerator…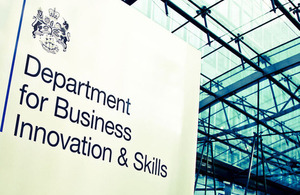 Metro Bank will support up to £100 million of lending for eligible businesses in London and the South East that are signed up to GrowthAccelerator, _a Government-backed coaching service available to businesses with genuine potential for rapid and sustainable growth. _RBS Natwest has agreed to promote GrowthAccelerator across its nationwide network, to its UK SME customers, utilising over 3,000 relationship managers who will identify and support eligible businesses. RBS Natwest is already committed to lending over £2.5 billion to UK SMEs through the Funding for Lending Scheme.
The Government's £200 million _GrowthAccelerator _service matches eligible companies with business experts to identify barriers to growth and ways to overcome them. This can be on issues such as securing finance, commercialising innovation or developing leadership and management capability. Over 1,000 businesses have joined the programme since it was launched in May 2012.
The announcement of these two funding partners marks the start of a wider engagement with the UK banking community for _GrowthAccelerator.
_Business Secretary Vince Cable said:
"This Government is committed to supporting our growth industries and Cambridge is an example of what can be achieved when academia and ambitious, innovative young companies come together. Autonomy and Arm Holdings are just two of the world-leading technology companies that were established here and many others are following in their wake.
"GrowthAccelerator is designed to help these next generation businesses fulfil their potential. Getting access to finance on reasonable terms is crucial to their success which is why I am delighted with today's pledge by Metro Bank to provide up to £100 million of lending to eligible businesses signed up to GrowthAccelerator. It is good news for businesses that new entrants like Metro Bank are energising the market to support dynamic, fast-growing UK businesses.
"I also welcome RBS Natwest's commitment to promote _GrowthAccelerator _to its substantial SME client-base."
The Business Secretary visited St John's Innovation Centre, the region's leading business hub for start-ups and one of the _GrowthAccelerator _partners. At the Centre he met 50 local businesses that are eligible to join the scheme as well as those already receiving coaching through it.
David Gill, Managing Director of the St John's Innovation Centre, said:
"Over the past 25 years at St John's Innovation Centre, we have seen that high-growth businesses are more likely to realise their full potential sooner with the benefit of targeted coaching and advice. Using GrowthAccelerator, businesses can locate the right coach much more easily, starting work straightaway with a tailored package of support. And the service is affordable. Many successful businesses began in St John's, and we are delighted to be delivering GrowthAccelerator to a new generation of entrepreneurs around the region."
While in Cambridge, Vince Cable also visited the Laboratory for Molecular Biology (LMB) and the Institute for Manufacturing. The LMB is part of the Cambridge BioMedical Campus and has helped pioneer a range of techniques, most notably the sequencing of DNA. It is also home to 14 past and present Nobel Prize Winners. The LMB is currently moving to a new state of the art facility which has received £67 million of Government funding towards a total project cost of £212 million.
The Institute for Manufacturing (IfM), which is part of Cambridge University, integrates research and education with practical application in companies. It provides a unique environment for the creation of new ideas and approaches to modern industrial practice. The IfM works closely with industry, at a regional, national and international level, providing strategic, technical and operational expertise to help companies to grow and to become more competitive.
**Notes to editors:
**1. The Business Secretary outlined the industrial strategy, which builds on the Plan for Growth and progresses work already underway with some business sectors, in a speech to Imperial College, London. The speech is available from www.bis.gov.uk/newsroom
GrowthAccelerator provides a tailored service to participating high-growth businesses, providing access to experts who can help them achieve 20 per cent growth year on year. Experts work with businesses to improve the potential to access finance, develop leadership skills, commercialise innovations and improve business development. Further information about GrowthAccelerator can be found at www.growthaccelerator.com

GrowthAccelerator is a partnership between Government and private enterprise. It forms part of a package of support for small and mid-sized businesses, including the Business in You campaign and the mentoring portal, www.mentorsme.co.uk which provide a single point of access for those seeking mentoring and those seeking to be mentors across the UK.

Metro Bank is aligning £100 million of debt funding for GrowthAccelerator clients. Businesses will have to meet Metro bank's usual lending and suitability requirements in order to access the money. This is not a new Government fund and Government is not providing any funding for this activity. This demonstrates the confidence the private sector has in GrowthAccelerator.

RBS Natwest has agreed to promote GrowthAccelerator across its nationwide network, utilising over 3,000 relationship managers who will identify and support eligible businesses. RBS Natwest is already committed to lending over £2.5 billion to UK SMEs through the Funding for Lending Scheme.

The Government's economic policy objective is to achieve 'strong, sustainable and balanced growth that is more evenly shared across the country and between industries.' It set four ambitions in the 'Plan for Growth' (PDF 1.7MB), published at Budget 2011:
To create the most competitive tax system in the G20

To make the UK the best place in Europe to start, finance and grow a business

To encourage investment and exports as a route to a more balanced economy

To create a more educated workforce that is the most flexible in Europe.
Work is underway across Government to achieve these ambitions, including progress on more than 250 measures as part of the Growth Review. Developing an Industrial Strategy gives new impetus to this work by providing businesses, investors and the public with more clarity about the long-term direction in which the Government wants the economy to travel.
BIS's online newsroom contains the latest press notices and speeches, as well as video and images for download. It also features an up to date list of BIS press office contacts. See http://www.bis.gov.uk/newsroom for more information.
Notes to Editors
Contact Information
Name BIS Press Office Job Title
Division Department for Business, Innovation & Skills Phone
Fax
Mobile
Email bispress.releases@bis.gsi.gov.uk
Name Dan Palmer Job Title
Division Department for Business, Innovation and Skills Phone 020 7215 5303 Fax
Mobile
Published 3 October 2012