News story
Bank of England Governor visits Hong Kong
Bank of England visit underlines HK-London links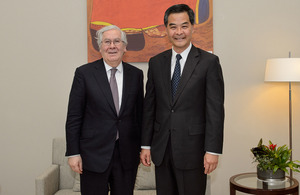 Governor Sir Mervyn King visited Hong Kong this week, where he met the Chief Executive, Financial Secretary John Tsang and Chief Executive of the Hong Kong Monetary Authority Norman Chan.
During his meetings, Sir Mervyn emphasised the importance of London, Hong Kong and Beijing working closely together on the internationalisation of the renminbi as well as a range of other issues, and discussed the global economic outlook.
Today in Beijing, the Governor met with Governor Zhou Xiaochuan of the People's Bank of China and agreed to facilitate discussions on the establishment of a reciprocal 3-year, renminbi/sterling currency swap arrangement. The Governor said the announcement marked "a significant milestone in constructive bilateral dialogue between the Bank of England and the People's Bank of China".
British Consul General Caroline Wilson said:
The Governor's visit highlighted the strong links between the UK and Hong Kong in financial services. Today's announcement in Beijing shows that London continues to strengthen its position as the western hub for RMB business – and our close partnership with Hong Kong is crucial to this development.
Published 22 February 2013