News story
Banjo player in the rhythm of Dounreay demolition
An enterprising worker is turning wood from the demolition of Britain's second biggest nuclear site into banjos.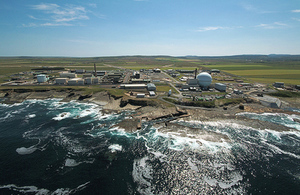 Neil Parkin works as a project supervisor for Dounreay Site Restoration Ltd, the contractor knocking down Britain's 20th century experiment with fast breeder reactors.
He's salvaging wood from the ornate facings of redundant buildings and turning them into banjos.
Top US banjo player Dwight Diller is among those to have commissioned one.
Neil (38) says it's a hobby that could grow into a business and provide him with work when his job ends at Dounreay.
He's one of 1700 staff working on the demolition of the site who'll lose their jobs over the next decade.
Neil's job takes him across the 135-acre site supervising work on the dismantling of hundreds of buildings at the site. He took up the banjo eight years ago and started crafting his own instruments after spotting the quality of wood being stripped from the entrances of redundant 1950s buildings.
His first was presented as a gift for his father's 60th birthday.
The most recent was a commission from top US musician Dwight Diller for a close friend in England.
Dwight, who intends to use it on tour in the UK, gave Neil free tution at his banjo retreat in West Virginia after playing one of Neil's instruments at an event in England.
"I've always had an interest in design and DIY," explained Neil. "I took up the banjo in my spare time eight years ago in and it evolved when I saw the wood that was coming off the buildings at Dounreay and thought it could be used again."
Help is available to workers at the site who want to turn their skills into a new business and Neil says he is now exploring options for a start-up in luthiery.
Published 1 June 2012