World news story
Baltic Chevening Alumni and a distinguished panel discuss Europe's future
The British Embassy organised a discussion event on 'the Future of Europe'.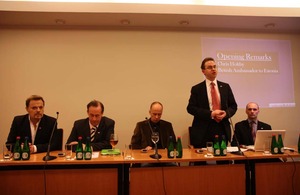 Alumni of the Chevening scholarship from Estonia, Latvia and Lithuania participated in a discussion event on 'the Future of Europe', organised by the British Embassy. Three interesting speakers with unique perspectives provided an open and candid discussion platform for the important issues facing Europe and the European Union today.
Taking place on 20 March at the Estonian Ministry of Foreign Affairs, HM Ambassador Chris Holtby welcomed former scholars from the Chevening Programme to the event. A mixture of panel presentations, interactive questions and answers, and lively discussion ensured an interesting event, enjoyed by all who attended.
Participating on the panel, comedian and actor Eddie Izzard explained his vision of European identity, the joys of European languages, and the human capacity to assume different identities, whether national or European.
Martin Callanan, MEP and Chairman of European Conservatives and Reformists Group gave the view from the European Parliament, exploring the challenges Europe is currently facing and possible future reform.
Ahto Lobjakas, Estonian journalist and researcher, concluded the event with a thoughtful piece on how maps of Europe define our image of how the continent works together.
Over 50 participants were invited to vote on poll questions covering the strengths and weaknesses of the European Union and the shape of Europe's borders, with their answers displayed in real-time, allowing the panel to provide comment and analysis.
Chevening scholarship are the UK government's scholarship programme to support study at UK universities for students with potential to become future leaders, decision-makers and opinion formers. Over 350 students from the Baltics have held Chevening Scholarships, and now hold positions of influence in a range of sectors.
Published 28 March 2013