Ballot for ringside seat at Jubilee celebrations
Public can apply for seats near the Palace as details of procession route are also revealed.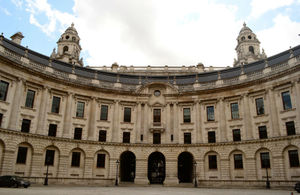 A public ballot has opened today for UK residents to apply to be at the heart of the Diamond Jubilee celebrations on Tuesday 5 June.
Ten thousand members of the public will get the opportunity to enjoy the day's events from free seats facing Buckingham Palace.
The day will be the culmination of the Diamond Jubilee weekend and will include a lunch at Westminster Hall, a carriage procession to Buckingham Palace and a balcony appearance and flypast.
"This really is a once in a lifetime opportunity and one that will be remembered for generations to come," Culture Secretary Jeremy Hunt said. "It's completely right these seats are allocated in a fair way to the general public and that they are free of charge. To have a ringside seat on such a historic day is an experience not to be missed."
Details of how to apply and other information about the ballot is available online. The ballot will close at 23:59 BST on Friday 20 April 2012.
Buckingham Palace has today published details of The Queen's processional route from Westminster Hall to Buckingham Palace on 5 June.
Further information
Apply for the ballot - CLOSED
Published 20 July 2012