Bahrain protests - advice for British nationals
We advise against all but essential travel to the Kingdom of Bahrain.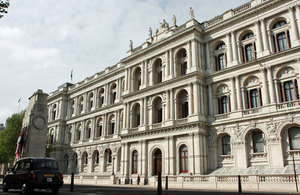 In light of recent developments, we have changed our travel advice to advise against all but essential travel to the Kingdom of Bahrain.
The risk of further demonstrations and sporadic outbreaks of violence remains high, so we have also advised British nationals currently in Bahrain to limit travel around the island to essential journeys only, and to monitor the media. If travelling within Bahrain, British nationals have been advised to maintain a high level of security awareness, particularly in public places and on major highways, and avoid large crowds and demonstrations.
The airport remains open and transiting through the airport is unaffected by this advice.
The Embassy in Bahrain is located in central Manama, and will remain open offering restricted essential Consular, Press and Commercial services only, until further notice. If you intend to visit the Embassy for essential business, please call first to ensure it appears safe to do so on 1757 4100.
For all other enquiries to do with the situation in Bahrain please use the numbers given below.
We recommend you register with the British Embassy in Manama via LOCATE or ask family in the UK to do so for you. Where the internet is working, we will attempt to contact those registered by email. We will also be updating messages on the British Embassy Bahrain website.
British nationals requiring assistance or advice can call the Foreign Office on 020 7008 1500 from the UK or 17574151 from Bahrain.
We are monitoring the situation closely and will keep our travel advice for Bahrain under review. For the latest information, see our Bahrain travel advice.
Published 21 February 2011