Babcock Dounreay Partnership recognised in award ceremony
The Babcock Dounreay Partnership (BDP) has won an award in this year's Scottish Council for Development and Industry (SCDI) Highlands and Islands business awards.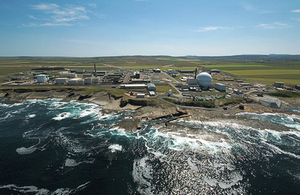 BDP won the Benromach Award for excellence in international business, in recognition of the work being done by the consortium to develop the potential to export its expertise in nuclear decommissioning.
Project Director for Waste Charley McVay received the award on behalf of BDP from guest speaker the Rt Hon Danny Alexander MP, Chief Secretary to the Treasury.
BDP is contracted by the Nuclear Decommissioning Authority to decommission the former fast reactor research facility at Dounreay.
BDP's aim is to make Dounreay the European reference site for decommissioning, and it is seeking to use its decommissioning skills in a range of markets worldwide, while ensuring that Dounreay is decommissioned safely to time and cost.
Charley said that BDP is committed to the successful decommissioning of the site, but also recognises the potential that exists to use that experience in other markets.
"We have an opportunity here to showcase what we are achieving at Dounreay and to utilise those decommissioning skills both here and overseas."
Published 20 September 2013