Babcock consortium acquires site licence company
Dounreay Site Restoration Ltd is now a wholly-owned subsidiary of the Babcock Dounreay Partnership.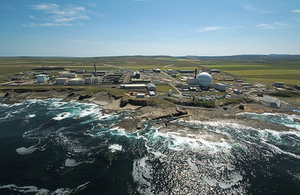 This is the consortium selected by the Nuclear Decommissioning Authority to complete the clean-up and closure of the redundant nuclear site.
The partnership consists of Babcock International Group (50%), CH2MHILL (30%) and URS (20%). Eleven staff seconded from the three companies occupy positions in DSRL from today. A new board is also in place.
The partnership's site closure plan, using the resources of Dounreay Site Restoration Ltd, will be implemented progressively subject to normal regulatory controls governing safety, security and environmental protection. DSRL employs approximately 950 people and has an annual turnover in the region of £150 million through its sole contract with the Nuclear Decommissioning Authority.
It is the site licence company regulated by the HSE's Office for Nuclear Regulation and the Scottish Environment Protection Agency for the safe management of hazards at the site.
The new managing director of DSRL is Roger Hardy, who joins DSRL from Babcock International Group. He succeeds Simon Middlemas, who becomes chairman of the DSRL board.
Tony Wratten, formerly deputy managing director, is leaving Dounreay for a new post with Babcock International. The contract awarded to Babcock Dounreay Partnership is the first to be signed by the NDA to complete the demolition of a redundant nuclear site in the UK.
The acquisition follows a four-month transition period since November when the NDA named Babcock Dounreay Partnership as its preferred bidder.
Dounreay Site Restoration Ltd previously was owned by UKAEA Ltd
Published 1 April 2012