Press release
Axe-wielding robber has prison sentence increased
The Court of Appeal increased Dean Wilkinson's sentence by a year and a half.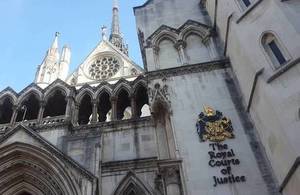 A man found guilty of the bonfire night-robbery of a North Tyneside sports club has today had his sentence increased after it was referred as unduly lenient by Solicitor General Robert Buckland QC MP.
Armed with axes, 28-year-old Dean Wilkinson and an as yet not-apprehended accomplice made off with over £20,000 after threatening the golf club's employees in the female changing rooms where they were counting the night's takings. Around a third of the takings remain missing after £13,000 was recovered by police.
In their personal statements, the female employees threatened during the robbery – one of whom was 8 months pregnant – told the jury that they continued to fear for their safety.
Wilkinson was originally sentenced in January to 3 years in prison at Newcastle Crown Court. Today, the Court of Appeal increased this to 4 years and 6 months in prison.
Speaking after the hearing, the Solicitor General commented:
"Wilkinson's offence is one that has had a profoundly damaging effect on his victims, not just in the sense of the stolen money but also the psychological pain he inflicted upon those he threatened – including a pregnant woman. Given the violent and intimidating nature of his crime, it is absolutely the right decision that he spent a longer time behind bars."
Published 4 April 2019