Awards for inspirational people
Simon Shepherd explains why the Butler Trust's annual award scheme for staff and volunteers is such an inspiring event.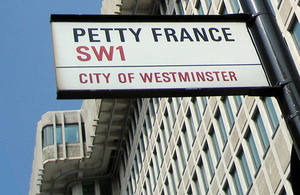 'We have just enjoyed the highlight of our year, the annual award ceremony at Buckingham Palace presided over by our Royal Patron, Her Royal Highness The Princess Royal. This was the 27th such occasion and once again it was a truly memorable day with some inspirational people receiving due recognition for their outstanding work.
The Butler Trust was founded in 1985 in memory of 'RAB' Butler, a reforming former Home Secretary who believed that a more humane and effective penal system 'will finally be attained not by buildings, or rules or even ideals, but by people.'
It was in this spirit that the Reverend Peter Timms OBE, a long-standing prison governor and a firm believer that prison should focus on rehabilitation, set up the Trust to reward the contribution prison staff were making in working with prisoners to encourage and help them to lead a good and useful life. The Trust has expanded since then to recognise and support those in the probation and youth justice sectors, too.
You might imagine that, after almost three decades of running the award scheme and with the constant and growing pressures and constraints placed on staff working across all the services, the Trust might be faced with increasing difficulties finding people who are still able and willing to go the extra mile, break down boundaries and achieve great things - quite the contrary! If anything the creativity, innovation and, perhaps most importantly of all, the number of people carrying out their 'ordinary' job 'extraordinarily' well seem to grow year on year.
This is exemplified by all of our winners this year, none more so than Kate Knight, the recipient of 'Her Royal Highness The Princess Royal's Prize for outstanding achievement in work in correctional settings'. As Kate says, 'People are so appreciative that someone is willing to go out of their way a little bit. It's not much on your part for a huge benefit for somebody else.'
With the 2012 ceremony over, we are already looking to next year's awards; to that end, we have just launched the 2012-13 award scheme - and this is where you come in! We rely on people making nominations to draw our attention to the most exceptional work being done in prisons, probation and youth justice and anyone can make a nomination - so if you know of someone who deserves wider recognition, we want to hear from you.
So please contact us or visit our website for further details and to obtain all of the forms you need to make a nomination - and in twelve months time the person you tell us about could be at Buckingham Palace for the 28th annual award ceremony.'
Published 9 March 2012