World news story
Award for UK Trade & Investment Teams in Seoul and Abu Dhabi
This was published under the 2010 to 2015 Conservative and Liberal Democrat coalition government
UKTI teams in Seoul and Abu Dhabi have been awarded Silver medals for innovation at the most recent UKTI Leadership Conference.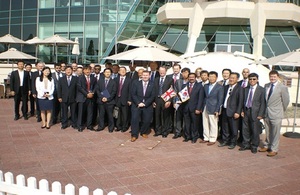 The medal is recognition for the teams' pioneering third country projects, in which opportunities for UK and Korean firms to collaborate in other markets are identified and harnessed.
Seoul-based Trade Officer Youngran Lee and Head of Trade Cliff Bebb developed the ground-breaking project.
Youngran explained:
South Korean companies have been winning more and more projects, particularly in oil and gas and power, in Abu Dhabi and the wider MENA region. British companies have the complementary skills and expertise to support this success. It's against that background that the initiative was born.
The project began life in February 2011 when UKTI Seoul and Abu Dhabi jointly organised a presentation by UKTI Seoul to the British Business Group in Abu Dhabi. Over 100 people turned up to find out more about how to do business with Korean contractors, generating a host of leads for the embassy's trade team.
The first success came in the civil nuclear sector, where 11 UK firms are now contributing to KEPCO's $20bn new build project in Abu Dhabi. Banks, law firms, consulting engineers and fuel and equipment suppliers have all signed contracts. Two UK trade missions have visited Korea to further develop relationships, and reciprocal visits have been made to the UK from Korea. The Nuclear Industries Association signed a memorandum of understanding with the Korea Atomic Industrial Forum in November. A third nuclear mission will come to Korea in October 2013, to meet not only Korean stakeholders but also the United Arab Emirates (UAE) delegation visiting the World Energy Congress at Daegu.
Last December, UK Trade & Investment (UKTI) Seoul staged a follow-up UK-Korea Partnership Event in Abu Dhabi which saw nearly forty people from both sides come along to network, discussing energy, transport and other project collaboration opportunities. The early signs suggest business will flow.
John de Moraes, Managing Director of Dal Sterling Group Plc, travelled from the UK to take part and was very impressed with the event. He said:
We at Dal Sterling would like to thank you very much indeed for orchestrating and organising such a productive partnership meeting between UK and Korean companies. The whole process was thoroughly professional, well organised, concise and suited the needs of most of the attendees. It was brilliant to see such a co-ordinated effort from the UKTI.
The team from Seoul has also visited Saudi Arabia to take part in the Saudi-British Energy Week, organised by the British Trade Office in Al Khobar. More than 150 delegates attended a workshop on opportunities to work with Korean firms and a number of business leads were generated.
In addition to UAE and Saudi, UKTI Seoul is planning to pursue new opportunities in Qatar and perhaps Iraq and Kuwait in the coming year.