News story
Award for Chair of Intellectual Property Institute
In a ceremony in Berlin, the State Secretary of the Federal Minister of Justice, Dr Birgit Grundmann, made particular mention of Alison Brimelow…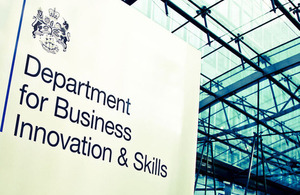 In a ceremony in Berlin, the State Secretary of the Federal Minister of Justice, Dr Birgit Grundmann, made particular mention of Alison Brimelow's pioneer role as the first woman President of the EPO and her achievements in reforming and guiding the Office through a time of financial crisis, as well as her personal engagement in the life of her adopted city of Munich.
The Order of Merit of the Federal Republic of Germany was instituted in 1951 by Federal President Theodor Heuss. It is the only honour that may be awarded in all fields of endeavour and is the highest tribute the Federal Republic of Germany can pay to individuals for services to the nation.
Minister for Intellectual Property Baroness Wilcox said:
"It is fantastic to see a former British civil servant get this prestigious recognition. Alison has made a huge contribution to the field of intellectual property law over a number of years."
Notes for editors
Alison Brimelow was appointed Chair of the Intellectual Property Institute from April 2011. From 2004-2010 she was President-elect and then President of the European Patent Office. From 1999-2003 she was Comptroller General and Chief Executive of the UK Patent Office (now the IPO). She joined the UK Patent Office in 1991, where she became Head of the Trade Mark Registry in 1993. From 1997-1999 she was Director European and International Competition Policy at the Department for Trade and Industry (DTI). Other posts included European Trade Policy at the DTI, and Deputy Director, Top Management Programme at the Cabinet Office.

BIS's online newsroom contains the latest press notices, speeches, as well as video and images for download. It also features an up to date list of BIS press office contacts. See http://www.bis.gov.uk/newsroom for more information.
Notes to Editors
Contact Information
Name BIS Press Office Job Title
Division COI Phone
Fax
Mobile
Email NDS.BIS@coi.gsi.gov.uk
Name Joe Upton Job Title
Division Department for Business, Innovation and Skills Phone 020 7215 5959 Fax
Mobile
Email Joe.Upton@bis.gsi.gov.uk
Published 14 September 2011