World news story
Autumn Statement – Boosting UK Research & Innovation
Boost for science, research and innovation partnerships from UK Chancellor's Autumn Statement; 20% increase in government R&D investment by 2020-21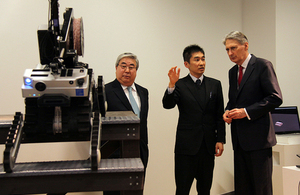 The Chancellor's Autumn Statement set out a number of measures relating to science, research and innovation, including an increase in government investment in R&D by £2 billion a year by 2020-21, a total of £4.7BN new money. This funding is part of a £23BN National Productivity Investment Fund (NPIF), which is aimed at helping to boost UK productivity. This significant investment should send a clear signal to research partners and businesses across the world that the UK will remain a very attractive place in which to do R&D. Part of the £4.7BN for R&D includes a commitment to create a new Industrial Strategy Challenge Fund, which was announced by the Prime Minister last month. The new fund will support collaborations between businesses and researchers. It will set challenges across a broad range of priority technologies.
Following to this announcement, the Chancellor visited the Future Robotics Technology Centre, Chiba Institute of Technology, interacting with the students/people who actually make the robots. International collaboration produces the best science and innovation and helps maintain the excellence and efficiency of UK research by ensuring UK researchers have the opportunity to work with the best in the world and share access large scale facilities. While the detail of how the new funding will be spent is still being worked out, we expect collaboration with research-intensive nations like Japan to remain a high priority.
Further information:
The robotics and autonomous systems area has been highlighted by the UK Government as one the 8 Great Technologies that underpin the UK's Industrial Strategy for jobs and growth. UK has a strong reputation for enabling technologies such as machine learning, sensing, imaging, software & processing, interdisciplinary approaches and user-focused applications. The strength of the UK's science base is helped by our world class universities and research institutes with good connections with business and with international partners around the world, as well as our infrastructure and our creativity.
SIN Japan leads GREAT robotics campaign resulting in over £350,000 of investment
Published 16 December 2016